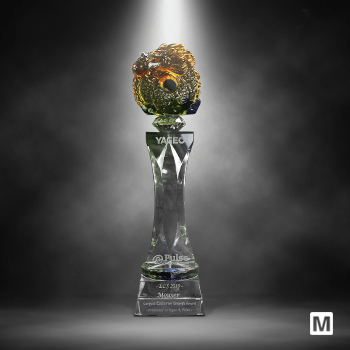 June 21, 2019 – Mouser Electronics is pleased to announce that it has been awarded the 2018 largest customer development award, which has been received from its valuable partner, Yageo Corporation, which is a world-class provider of passive components. This award was recently presented to the Mouser Representatives for the recognition of the global distributor's best-in-class efforts, which contributed to the development and sales targets of those who had last year.
As an authorized distributor, Mouser stocks the full line of Yageo products. Yageo is a global leader in the electronics industry, offering a complete product portfolio of resistors, capacitors and high-frequency products, all of which are available through Mouser's award-winning website, Mouser.com. Yageo's broad product offerings, including passive, magnetic-based products from Pulse Electronics, target key vertical markets, such as applications for mobile, tablet PC, industrial/power, alternative energy, medical and automotive.
Mouser previously received the prestigious Double-Double Award in 2014 for doubling shipping quantity and sales of Yageo's products.
For more information, visit : www.mouser.com/yageo