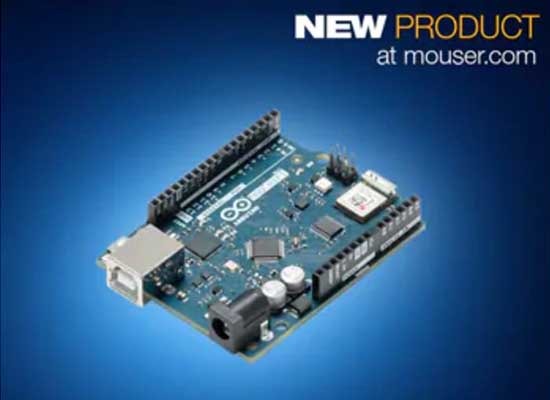 November 8, 2018 – Mouser Electronics, Inc., the authorized global distributor with the newest semiconductors and electronic components, is now shipping the highly anticipated Uno WiFi Rev 2 from Arduino. The first AVR-based, natively enabled Internet of Things (IoT) board from Arduino, the Uno WiFi Rev 2 board integrates an 8-bit microcontroller, Wi-Fi module, sensors, and hardware-based security in the familiar Uno Rev 3 form factor. The new board addresses the wireless connectivity and low power demands of the growing IoT market.
The Arduino Uno WiFi Rev 2, available from Mouser Electronics, is based on the new Microchip Technology ATmega4809 megaAVR microcontroller. The ATmega4809 offers Core Independent Peripherals (CIPs) and an integrated high-speed analog-to-digital converter (ADC) with voltage reference for faster conversion of analog signals. The microcontroller also provides more memory than on previous Uno boards, boasting 48 kBytes of flash and 6 kBytes of RAM, plus three UARTs to enable communication with more than one RF module.
The Uno WiFi Rev 2 includes a u-blox NINA-W13 module with integrated TCP/IP protocol stack to provide 802.11b/g/n Wi-Fi connectivity enabling access to a Wi-Fi network or for use as an access point. The board also features support for over-the-air (OTA) programming for transfer of Arduino sketches or Wi-Fi firmware. Wireless security is provided by a Microchip ECC608 CryptoAuthentication IC, which combines hardware-based key storage with hardware cryptographic accelerators to implement authentication and encryption protocols. Other features include onboard debugging, inertial measurement unit (IMU) with 3-axis accelerometer and 3-axis gyroscope, 14 digital input/output pins (six PWM outputs), and six analog inputs.
Designed to ease deployment of designs that need Wi-Fi connectivity, the Arduino Uno WiFi Rev 2 is ideal for prototyping IoT applications such as smart agriculture, smart home, motor control, automation, wearables, and other open source projects.
To learn more, visit www.mouser.com/arduino-uno-wifi-rev2.