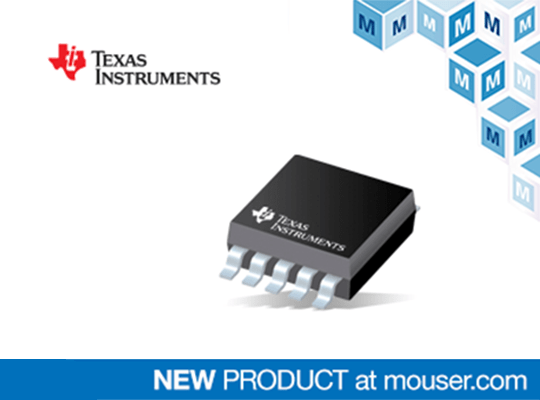 December 4, 2019 – Mouser Electronics, the industry's leading New Product Introduction (NPI) distributor with the widest selection of semiconductors and electronic components, is now stocking the DACx0501 digital-to-analog converters (DACs) from Texas Instruments (TI). These highly accurate, low-power devices feature buffered voltage output and are suitable for a variety of applications, including oscilloscopes, data acquisition instruments, small cell base stations, analog output modules, process analytics, and DC power supplies.
As an authorized distributor, Mouser Electronics is focused on the rapid introduction of new products and technologies, giving customers an edge and helping speed time to market. Over 800 semiconductor and electronic component manufacturers count on Mouser to help them introduce their products into the global marketplace. Mouser's customers can expect 100% certified, genuine products that are fully traceable from each manufacturer.
TI's DACx0501 family of DACs, available from Mouser Electronics, is comprised of the 16-bit DAC80501, the 14-bit DAC70501, and the 12-bit DAC60501. The devices offer a wide power supply range from 2.7 V to 5.5 V and include an integrated 2.5 V internal reference that delivers three full-scale buffered output voltage ranges. The devices' power-on-reset circuit ensures the DAC output powers up at zero scale or midscale, and maintains that scale until a valid code is written to the device. Boasting a very low current of only 1 mA, the DACx0501 family also offers a power-down feature that lessens current consumption to 15 µA (at 5 V, typical).
Mouser also offers the DAC80501EVM platform, which (in conjunction with the USB2ANY interface adapter) enables developers to evaluate the functionality and performance of the DAC80501 DAC.
With its broad product line and unsurpassed customer service, Mouser strives to empower innovation among design engineers and buyers by delivering advanced technologies. Mouser stocks the world's widest selection of the latest semiconductors and electronic components for the newest design projects. Mouser Electronics' website is continually updated and offers advanced search methods to help customers quickly locate inventory. Mouser.com also houses data sheets, supplier-specific reference designs, application notes, technical design information, and engineering tools.
For more information, visit www.mouser.com