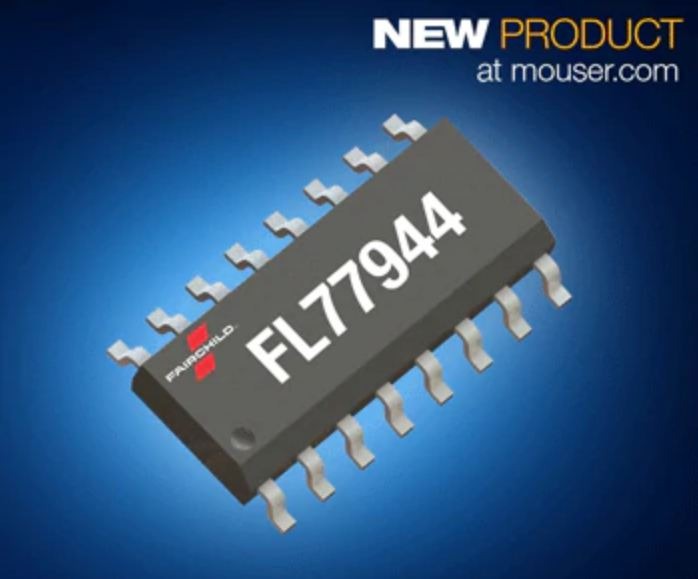 Mouser Electronics, Inc. is now stocking the FL779xx LED direct AC drive(DACD) family from Fairchild Semiconductor, now a part of ON Semiconductor. The FL779xx DACDs are solid-state LED lighting solutions that manufacturers can use to easily scale power and create smart LED-based lighting products. The FL779xx DACDs enable smaller, higher-performance LED products that feature longer system lifetime compared to products using a switch mode power supply (SMPS) approach.
The Fairchild FL779xx DACDs, available from Mouser Electronics, are simple direct AC line LED drivers that require only two external resistor-capacitor (RC) passive components, enabling engineers to design with small, low-cost solutions that are easy to implement. The FL779xx family provides solid-state lighting solutions that have smaller form factors, high performance, scalable power, and longer system lifetimes than other lighting solutions. The devices can scale power from 12W to 120W, reducing the number of different ICs required, and unlike SMPS solutions, the drivers require no magnetic components and electrolytic capacitors, enabling them to fit into tight spaces and increase system lifetimes. They can also be tuned for low flicker without compromising the power factor (PF) and total harmonic distortion (THD) performance.
The FL779xx devices provide phase-cut dimming with wide dimming range, smooth dimming control and good dimmer compatibility. The devices' combination of high efficiency, high PF, and low THD make them suitable for high-efficiency LED lighting systems. Designers can connect the driver ICs in parallel to drive higher-wattage systems, such as street lights and down lights. All three models can also be used with rheostat dimmer switches in indoor lamp designs, while the FL77905 and FL77944 models have a dedicated DIM pin, which is designed to be used with analog or digital PWM dimming.
Mouser also stocks the FEBFL77944 evaluation board in both low-line and high-line models to help designers work with the FL77944 DACD. The low-line LED driver board provides an input voltage range of 98 VAC to 142 VAC, while the high-line LED driver board provides an input voltage range of 198 VAC to 242 VAC. The Fairchild FL779xx DACDs are designed for a variety of lighting applications, including smart lighting systems, down lights, high bay lights, and outdoor lighting such as street lights and tunnel lights.
To learn more, visit http://www.mouser.com/new/Fairchild-Semiconductor/fairchild-direct-ac-drive/.