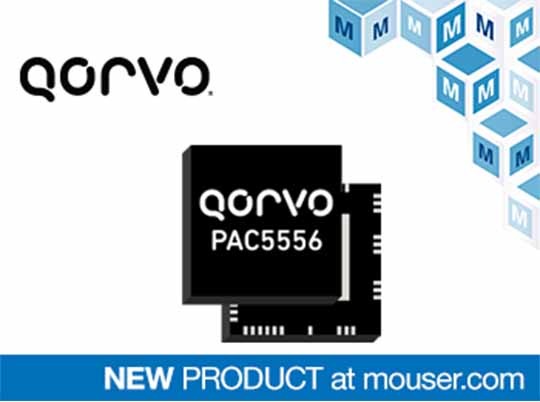 January 29, 2020 – Mouser Electronics, and Qorvo have introduced into the distribution channel the PAC5556 Power Application Controller. Delivering intelligent power control with extreme power density in a compact footprint, the PAC5556 mixed-signal system-on-chip (SoC) offers designers enhanced performance, reliability and energy efficiency, while helping to reduce bill of materials costs by as much as 35 percent.
The Qorvo PAC5556 Power Application Controller, available from Mouser Electronics, features a fully programmable, 32-bit, 150 MHz Arm Cortex-M4F high-performance digital processor with 128 Kbytes of flash. The PAC5556 also integrates a configurable power manager with a 600V N-channel DC-DC buck controller, Qorvo's Configurable Analog Front-End™, and application-specific power drivers. The PAC5556 contains motor control peripherals such as a 2.5-MSPS analog-to-digital converter (ADC) and PWM timers with hardware dead-time insertion. For high-voltage systems that do not require isolation, this highly optimized solution dramatically reduces the bill of materials due to the integrated features offered with this single SoC offering.

"The PAC5556 expands our highly optimized family of PAC devices that can implement BLDC and PMSM programmable motor controllers and drivers in a single, integrated package," said Qorvo Programmable Power Management business unit Sr. Director, David Briggs. "This is a game-changer for controlling and powering next-generation smart energy AC-powered appliances, devices, and equipment."
"With the global smart appliance market continuing to grow exponentially every year, programmable power management solutions like Qorvo's PAC5556 will be instrumental in helping to bring next-generation energy-efficient smart appliances to market even faster," said Jeff Newell, Mouser Senior Vice President of Products. "As the NPI leader in the industry, Mouser is dedicated to providing the most innovative products, while offering the design resources and proper distribution channels required to help engineers accelerate their designs to market."
To learn more about the Qorvo PAC5556 and the associated PAC5556EVK1 development kit, visit https://www.mouser.com/new/qorvo/active-semi-pac5556-controller/.