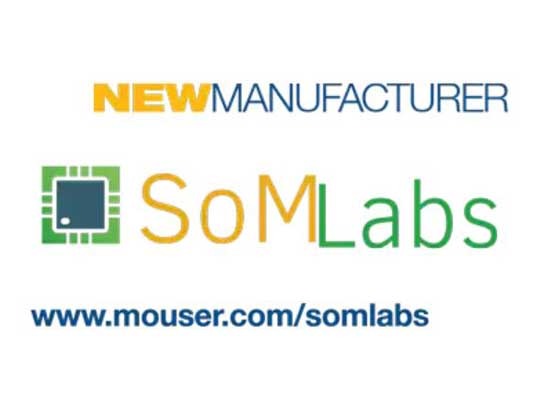 February 20, 2019 – Mouser Electronics, announces a global distribution agreement with SoMLabs, a developer and manufacturer of a wide range of embedded platforms. Through the agreement, Mouser now stocks a variety of products from SoMLabs for rapid development to help speed time to market.
The VisionSOM-6ULL family of SODIMM-sized system-on-modules (SoMs) are based on an NXP i.MX6 ULL application processor with a 900 MHz Arm® Cortex®-A7 core. The low-power SoMs feature high computation power and 802.11b/g/n Wi-Fi and Bluetooth® 4.1 connectivity. The VisionSOM-6ULL SOMs support connections to a variety of interfaces, including two high-speed USB On-The-Go with PHY, dual Ethernet, audio, display with touch panel, and serial interfaces. Memory options include DDR3L, NAND, eMMC, and SD memory slot.
VisionCB-6ULL-STD is a carrier board for the VisionSOM family of SOMs that can be used as a complete development platform or as a stand-alone product. The VisionCB-6ULL-STD houses a wide range of communication interfaces, including USB 2.0 host and client and 100 Mbit Fast Ethernet, and is compatible with Arduino Uno Rev. 3 and Raspberry Pi for additional connectivity.
SoMLabs SL-TFT7-TP-800-480 is a complete 7″ (17.78 mm) TFT-LCD display integrated with a capacitive touch panel, ideal for use with the VisionCB-6ULL-STD carrier board. The SL-TFT7-TP-800-480 display contains all of the DC-DC converters necessary for a +5 V single rail power supply. The display offers a 24-bit RGB matrix of 800 × 480 pixels plus TTL-LV (3.3 V)-compatible communication and data interfaces.
To learn more, visit www.mouser.com/somlabs.