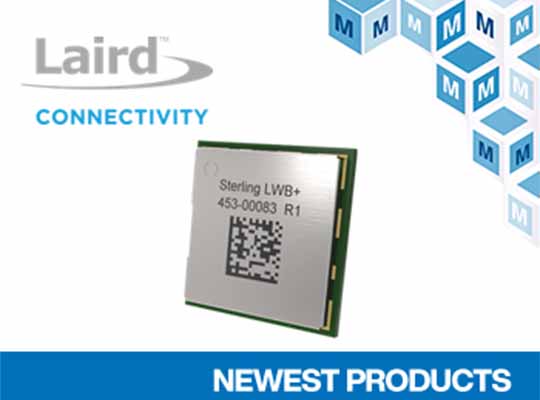 Mouser Electronics is now stocking the new Sterling-LWB+ modules from Laird Connectivity. The Wi-Fi 4 (802.11b/g/n) and Bluetooth 5.2 Low Energy-enabled devices are designed specifically for next-generation Internet of Things (IoT) products, such as battery-powered medical devices, industrial IoT sensors, rugged handheld devices, and other connectivity solutions.
The Laird Connectivity Sterling-LWB+ modules, available from Mouser Electronics, are powered by the Infineon AIROC™ CYW43439 chipset solution, supporting reliable and secure performance in industrial IoT settings, supporting a full industrial temperature range (-40°C to +85°C). Incorporating a fully featured Wi-Fi 4 radio enabled with software drivers and support, the secure, high-performance SDIO solution allows easy integration with any Linux- or Android-based system. The modules are mechanically and pin compatible with the Sterling-LWB module, offering a simplified upgrade path for existing designs.
The Sterling-LWB+ modules support the latest WPA3 security standards, and the devices' integrated power amplifier and low-noise amplifier (LNA) ensure reliable connectivity even in challenging RF environments. The Sterling-LWB+ devices are available with either an on-board chip antenna or a MHF connector for an external antenna, which can connect to range of Laird Connectivity-certified internal antennas. For development and evaluation, Mouser also stocks the Sterling LWB+ development kit, available with either an on-board chip antenna or a MHF connector. The modules are certified to FCC, ISED, CE, UKCA, RCM, MIC, and Bluetooth SIG registration, further speeding time to market.
To learn more, visit https://www.mouser.com/new/laird-connectivity/laird-sterling-lwb-plus-modules/.