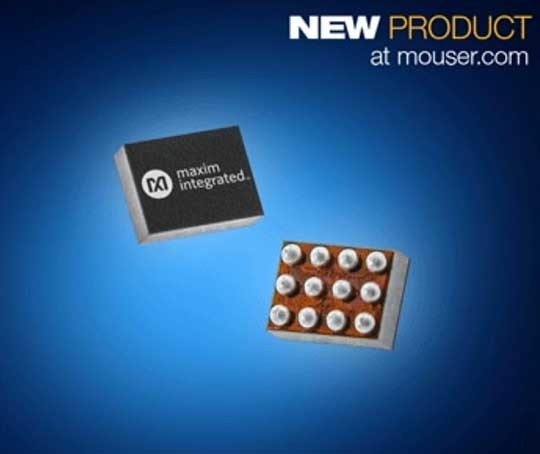 November 24, 2018 – Mouser Electronics is now stocking the MAX17250 DC-DC synchronous boost converter from Maxim Integrated. The MAX17250 offers up to 93 percent efficiency to minimize heat dissipation, with an ultra-low quiescent current that helps extend battery life in digital cameras, battery-powered Internet of Things (IoT) devices, and other connected designs.
The Maxim MAX17250 DC-DC boost converter, available from Mouser Electronics, includes a selectable input peak current limit of 3.5 A, 2.7 A, or 1.85 A and operates over an input voltage range of 2.7 V to 18 V with an output voltage range of 3 V to 18 V. The device supports switching frequencies up to 1 MHz and offers short-circuit protection and a maximum on-time of 800 ns in a space-saving 12-bump, 1.72 mm × 1.49 mm package.
The MAX17250 converter implements three modes of operation: The first mode of operation is a soft-start mode at power-up. The second mode of operation is normal operation, which uses a fixed on-time/minimum off-time pulse frequency modulation (PFM) architecture that uses only 60 μA (typical) quiescent current due to the converter switching only when needed. The MAX17250 converter's True Shutdown™ mode completely disconnects the output from the input, resulting in a current draw of just 0.1 μA, virtually stopping battery drain, providing long battery life, and eliminating the need for external disconnect switches.
Mouser is also stocking the Maxim MAX17250EVKIT#WLP evaluation kit, a fully assembled and tested kit that incorporates the MAX17250 converter and provides resistor-configurable output voltages from 3 V to 18 V.
To learn more, visit www.mouser.com/maxim-max17250-converter.