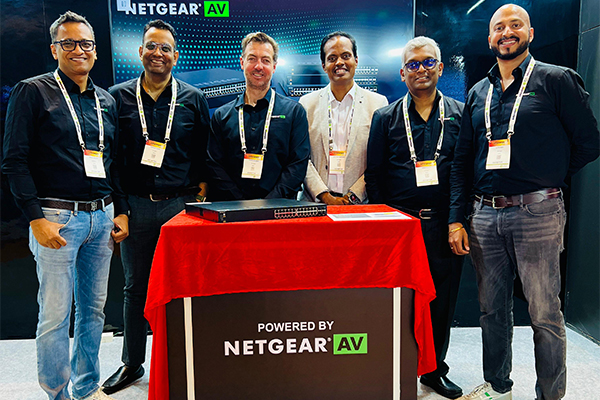 NETGEAR unveiled its Enterprise-Class AV M4350 Series Switches at the ongoingInfoComm India held at the Jio World Convention Centre, Mumbai. These switches are engineered and certified for AVoIP with dedicated service and support. The M4350 is packed with more Enterprise-class hardware, redundant power supplies, and up to 100G uplinks. The revolutionary NETGEAR AV user interface and Engage Controller contain pre-configured profiles for all major audio, video, and lighting protocols. The M4350 Series features IGMP Plus™ with Auto-LAG and Auto-Trunk, NSF, Selectable Port-Channel / LAG, Advanced IPv4/IPv6 security, a variety of PoE+ and Ultra90 PoE++ options for up to 90W AVoIP endpoints, controlled thermal and acoustics with intelligent fans, NSF, and a lot more.
NETGEAR has more than 200 switching products in its portfolio that provide businesses the ability to connect any type of AV over IP device, which offers flexible speed options that offer 1Gbps to 100Gbps throughputs per port. These switches can also be leveraged to Power PoE, Cameras and other Security and Surveillance products. With such a large portfolio customers are able to customize and order the exact combination of their needs with more room to expand for the future.
"NETGEAR has consistently acknowledged the ongoing transformation occurring within the Pro AV sector, particularly the innovations in AV-over-IP installations that are reshaping the possibilities in this field. India is a critical market for us and has been consistently delivering 5% of our global revenue and growing at a staggering 30% YoY," said Graeme McLindin, Worldwide Vice President Service Provider Business, NETGEAR.
The AV-focused division at NETGEAR was recently established to focus on the needs of both commercial and residential custom-integrated AV markets. This includes products that are only available in the AV distribution channel, design teams for Pro AV and Pro Wi-Fi installations, and software to help configure and manage wired and wireless networks.
"We are proud to be a part of InfoComm India which is a perfect platform to reach clients and showcase our wide range of new products in the AV segment. The most recent demonstration of our commitment to this domain involves the integration of these new products, which further enhances our managed switch product line and introduces an entirely new approach to switch configuration that is exclusively tailored to the needs of AV professionals," said Marthesh Nagendra, Sales Director – India MEA South-East Asia Region, NETGEAR. "The recent expansion of our R&D space in Bangalore is testimony to our commitments in the AV space. Integral to this plan we are expanding our R&D space to 100,000 Sqft, a major portion of which will be utilized for developing new products on AV line. I am happy to note that continuing our growth streak, we are confident to double up our YoY Sales in commensurate with our investments in the country.
"Our M4350 Series underscore NETGEAR's heightened dedication to the booming AV-over-IP market, which has experienced significant growth in recent years, thanks to its ability to deliver top-notch video and audio distribution with minimal latency over IP networks, ultimately enhancing scalability and fostering innovation within the Pro AV industry" said Jacob Inasu Marketing Manager – India & Middle East.
NETGEAR recognizes the explosion of video over Ethernet and has specifically designed products for AV over IP installations. The NETGEAR IGMP Plus, which allows out-of-the-box functionality for most all multicast installations, the modular switches accommodating copper, fiber, and HDMI inputs, NETGEAR will work with you to find the right solution at the right price. The ProAV world has adopted IP as its delivery method of choice and NETGEAR is here to help. NETGEAR switches provide a range of sizes and mounting methods to accommodate any installation – from the university campus to touring road shows.
Pro AV can implement a NETGEAR Solution for your next project, bringing together the resources available from NETGEAR to help you plan, design, implement, and install an AV-over-IP Solution.