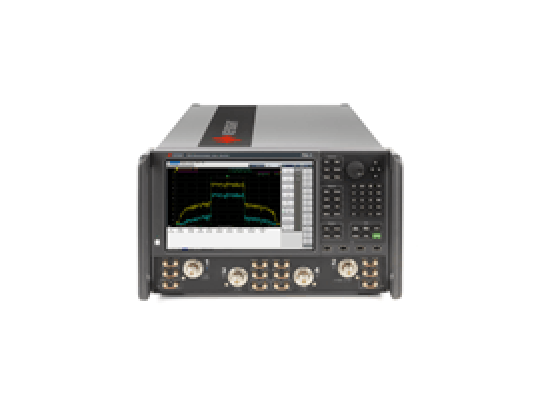 SANTA ROSA, Calif., May 16, 2019 – Keysight service providers and governments accelerate innovation to connect and secure the world, announced the optional S93070xB Modulation Distortion application for the company's PNA-X Vector Network Analyzer, which delivers a wide system dynamic range resulting in the lowest possible residual error vector magnitude (EVM) on the market today.
Traditional test setups, especially for 5G power amplifiers and beamformer integrated circuit design, verification and production, are complex and can introduce a wide range of sources for potential errors. These include mismatch and cable loss, which compromise signal fidelity and reduce the accuracy and repeatability of measurements.
The new S93070xB Modulation Distortion application, which is fully integrated with Keysight's PNA-X Vector Network Analyzer, enables designers to accurately, repeatably and quickly characterize the behavior of a device under modulated wideband signal stimulus. It leverages state of the art calibration for the best accuracy, offers single connection and single touch for existing vector network analyzer measurements, and provides the lowest possible residual EVM available in the market today.
"Engineers need to simplify their test setups to perform accurate, repeatable measurements they can trust," stated Keysight. "Integrating modulation distortion on the PNA allows engineers to isolate and measure key performance parameters of their design, reduce complexity of test environments and eliminate potential sources of error. This provides them with the confidence that their measurement results are reliable and consistent."
Keysight's new S93070xB Modulation Distortion application offers the following key features to help customers overcome wide band measurement challenges, as well as easily reproduce and speed time of measurements:
Low residual EVM due to wider system dynamic range (lower noise floor) to fully capture the performance of a device without limitations associated with the test setup
Signal fidelity at the device under test (DUT) input achieved by a performance network analyzer (PNA) calibration technique
Easy calibration for "vector corrected" EVM measurements
Consistent, repeatable measurement results supported by vector network analyzer (VNA) calibration technique
For more information, visit : www.keysight.com