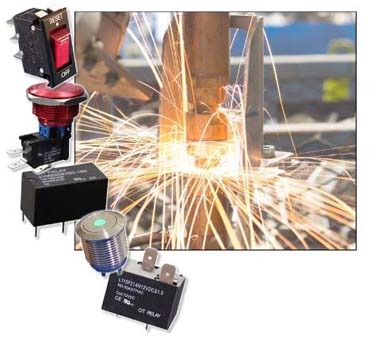 NOVEMBER 17, 2018 – New Yorker Electronics has announced it is now the newest authorized distributor for CIT Relay & Switch, manufacturer of electro-mechanical relays and switches.
Located in the greater Minneapolis, MN area, CIT Relay & Switch designs and manufacturers electro-mechanical automotive relays, UL approved and latching relays, relay sockets and commercial, household and automotive switches.The pairing of New Yorker Electronics and CIT Relay & Switch is significant because of the integral part switches and relays play in today's electronics marketplace sand has become a premier test lab for failure analysis and material testing. It provides the necessary element (the opening and closing of circuits) in the operation of an almost infinite number of products, from household blenders to large commercial test instrumentation. So as the demand for these electro-mechanical device assemblies increases, so too does the demand for the switches and relays that allow them to operate. More specifically, increased interest in electrical automotive parts, solar and smart grids has largely fueled this new high-water mark for the global switch and relay industry.
"We are now partnered with a manufacturer that not only offers a vast number of unique relay and switch resources, but is also poised to respond to the growing global demand for these devices," said Barry Slivka, President of New Yorker Electronics. "And as a franchise distributor for CIT Relay & Switch, so are we."
With its state-of-the-art test lab and skilled engineering staff, CIT can customize its relay and switch products to very specific needs. As an authorized distributor for CIT Relay & Switch, New Yorker Electronics will supply its full line of relays including Automotive, UL Approved, Latching and Socket relays; and Switches including Anti-Vandal, Illuminated, Pushbutton, DIP, Key, Circuit Breaker, Micro-Switches, Capacitive Touch switches and more. Value-added opportunities include custom wire-harnesses, custom color options and custom laser printing, among others.
For more information, Please visit at www.newyorkerelectronics.com