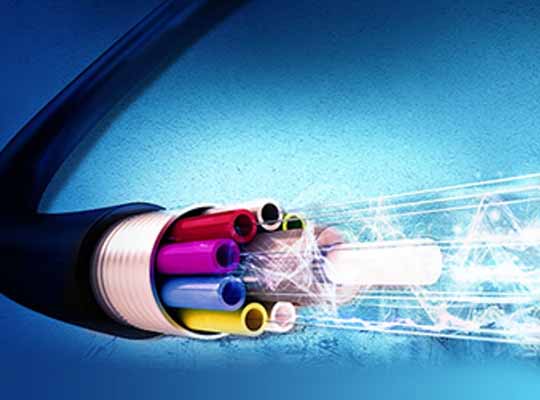 As networks continue to expand and transform to meet tomorrow's demands, new processes, tools and solutions are needed to address rapidly changing businesses and network needs. The potential of fiber as a communication medium seems unlimited, with new breakthroughs and possibilities. Fiber optics has emerged as the world's leading communication transport medium and the increasing diversity of fiber optic applications has highlighted the need for technician training and versatile, user-friendly test solutions.
Since their inception, fiber optic networks have continually evolved and expanded. With the emergence of 5G and FTTH, service providers are under pressure to increase their fiber footprint, completing massive deployments – to homes, businesses, data canters, towers and 5G cell sites – while striving to maintain quality of experience and reduce operational expenses.
The demand for optical fiber communications (OFC) in India is fuelled by backhaul network up-grade, growth of fixed broadband, surging datacentres and a rising number of mobile devices. The pandemic in 2020, remote working and disruptive growth of 5G has created an unprecedented demand for digital networks, making digital transformation a key priority for CIOs, while creating tremendous scope for faster fiber deployment and delivery of critical ICT infrastructure.
Fiber Optic Tools For Every Technician
Fiber optic cleaning, inspection, testing and monitoring require diverse tool sets and capabilities to remain effective in today's diverse communications technology landscape. Advanced fiber optic tools enable expedient certification, troubleshooting and maintenance, while monitoring equipment and cutting-edge OTDR devices support the uninterrupted integrity of sensitive fiber optic networks. Together, these tools provide the means to deploy and sustain vital fiber optic networks and keep them performing optimally.
Fiber Optic Testing
Network performance demands precision testing of equipment from the lab and production environment to the field. The size and complexity of today's fiber networks have highlighted the importance of robust fiber testing and monitoring and the next generation of fiber optic test tools are faster, easy-to-use and more powerful than ever before.
Testing OFC networks is an essential part of fiber optic installation, as well as on-going maintenance and following some fundamental fiber testing best practices will lead to safer, more efficient and reliable fiber deployments and network activation. It's estimated that 250,000 technicians will be tasked with new fiber installation and maintenance over the next three years, in order to keep up with the demand for broadband deployments. This rapid growth is driving the need for fiber certification tools that are extremely easy to use to ensure successful service turn-up, thereby avoiding activation delays, increased churn and excessive installation costs.
Fiber Monitoring
Optical cabling supports the communication infrastructure of the connected world, yet it is susceptible to frequent cuts, misplaced construction digs, rodent infestations, water ingress, security intrusions and many other potential hazards. Maintaining optimal fiber condition and performance requires advanced fiber monitoring practices to identify and react to problems quickly.
A robust fiber optic monitoring system should be capable of accurately detecting fiber faults from the source all the way to the subscriber, leading to earlier detection and precise fault location in order to reduce reaction and repair times. An integrated fiber monitoring and management system is key to facilitating the detection of faults, fiber degradation, security intrusions, alerting the system administrator in real-time when threats to fiber optic network integrity are detected. Monitoring systems can also be used for demarcation and isolation of issues arising due to faults in network elements, and to proactively analyse depletion and other fiber optic performance metrics over time, enabling higher bandwidth with improved data integrity and efficient spend on infrastructure.
Impact of Fiber on 5G
For communication service providers the preferred transport medium is fiber. This is because it's scalable, secure and cost-effective, as well as being a familiar technology that's easily understood by network engineers, which cuts time for installation, deployment and maintenance. Fiber is important for 5G front-haul, particularly for small cell deployment, as it achieves the speed, latency and bandwidth requirements. By using fiber in the front-haul and access networks, telecom operators can significantly reduce the cost of backhaul, helping them generate higher revenues and improve overall quality of experience (QoE).
OFC Networks and Smart Cities
With the aim of leveraging digital solutions to build sustainable cities the government has emerged as a key contributor to OFC demand In India. Programmes initiated by the government; such as Digital India and Smart Cities rely on strong fiber connectivity to function seamlessly. An extensive, robust and scalable communications infrastructure lies at the core of smart city development, and an enduring ICT backbone is imperative for the sustainable development of smart cities. Optical fiber networks and next-generation infrastructure is essential for applications like; – transportation, public safety, security, infrastructure connected to the IoT, machine to machine communication and utilities services.
Optical fiber networks are the backbone of bandwidth-intensive applications in a smart city. In shaping the cities of tomorrow the telecom industry stakeholders are making collaborative efforts to deploy and accelerate technology penetration under the Smart Cities Mission.
OFC in Avionics
Fibre is the transmission medium of choice for high-speed and high-performance networks, hence optical fiber is viewed to be the next generation network in flight control systems, defence aircrafts and commercial aviation. A big transformation is expected in aircraft design, as several companies are using more optical fiber in avionics applications due to its light weight, supporting high-speed operations, better signal integrity and immunity from EMI.