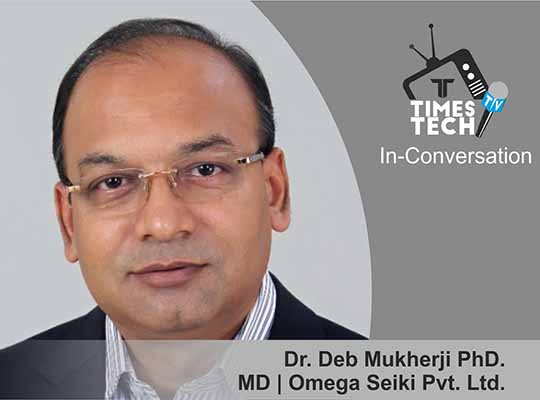 TimesTech Buzz: How has been Omega's journey so far? Give us a brief overview?
Dev Mukherji: We are a part of the omega group, which has been in this automotive & steel business for over 50 years from now. We manufacture automotive parts for various OEM's in PAN India.
Electric Vehicles are our new business as we see the transmission happening in the world level scenario. We see it as a major opportunity and would like to be a part of this change. With this objective we started this company 3 years back. With the first vehicle as a three-wheeler, which is doing great in the market even today.
As a company we provide the vehicle, do last minute mobility and manage the entire supply chain. We started our bit in the early days of EV because we feel EV's competition will speed up in coming years.
TimesTech Buzz: What is the mission & vision behind Omega Seiki Mobility? What was your mantra to success?
Dev Mukherji: We saw the transition in the industry 5 years ago and understood Two & Three-wheeler vehicles will be the early adopters of it. We noticed most vehicles coming from China that were poor quality & low-end vehicles. It's appreciable that they initiated the change but with such low quality the market wasn't to sustain. At that time seeing Three-wheeler as a commercial vehicle, we started to build it with a better quality which serves the buyer in the long run.
So, our vision is to make good quality vehicles that are low on maintenance & serve the buyer its purpose. Hence our mission is to achieve this each time.
TimesTech Buzz: Explain on the Omega's Mantra to 'STAY AGILE, FAST FORWARD & INSPIRE INNOVATION'
Dev Mukherji: Agility is something we take pride in. we take decisions quickly, don't have lengthy hierarchies. We observe the market quite briefly and closely, maybe that's the reason we have a sound connection in the market and its key players.
For innovation you see, we have talked about our high-quality vehicles Also, we continuously innovate in our product, business model, technologies and discuss with our partners in the electric technology. Like for batteries, long R&D keeps on happening to have more and more optimum one. We work closely for all these things.
TimesTech Buzz: What is the Go-to Market strategy Omega is following? How far Omega has marked its presence?
Dev Mukherji: As the complete automotive chain can be divided in two parts; supply & customer. Since it's a booming industry, it is totally a new network of suppliers one has to work with, select the correct partners with required knowledge and likewise approach. Similarly, on the demand side manufacturers have to keep updating on the customer demands, improvements and innovations they wish for. We have offices in England, Japan, Thailand, UAE and also working for a big partnership in Bangladesh.
TimesTech Buzz: Any plan for expansion in India and abroad?
Dev Mukherji: Our manufacturing unit in Faridabad, also we are eager for looking opportunities in the down south. Other than this we have dealers, supporters all over the country in locations like Hyderabad, Bangalore, Vijayawada, Chennai and planning a new one in Kerala.
TimesTech Buzz: How the worldwide pandemic affected Omega Seiki Mobility?
Dev Mukherji: It was a very disturbing time period, India a country with a population of 1.366 billion being shut down is a massive event. Which has worse outcomes that many businesses faced like financial crises, laying off, cutting down production or even shut down.
Fortunately, that period passed and we have vaccine out. I seek the coming six months to be very fruitful in curbing the virus.
For automotive sector, I feel it has revived with two-wheeler, three-wheeler vehicles being the first ones. Although, the heavy vehicle has still not yet overcome it.
We supply parts and automotive to array of OEMs, customers as well as for export. So, our company is on track.
TimesTech Buzz: How do you foresee 2021-2022 for the automotive and mobility sector?
Dev Mukherji: Automotive sector is expected to grow at a good level, budget is on the corner and I guess govt. will be giving incentives, setting policies for upliftment and setting the required infrastructure for the development of the sector. Overall, I'm positive for coming time.
TimesTech Buzz: Is Omega planning for any kind of partnership with any state or central govt.?
Dev Mukherji: Government has been very consistent in terms of supporting EV sector. Karnataka govt. is working aggressively in this field with multiple players and we are also in a dialogue with them for something big.
The one thing pandemic taught us is the significance of cleaner & greener environment. Government, Industries play major role in making it happen. We are working on eco-friendly technology for a better tomorrow.