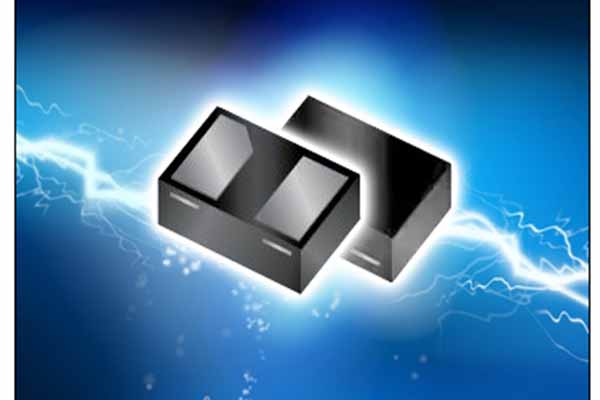 Good-Ark Semiconductor's newest DFN0603 ESD TVS series from Omni Pro Electronics offers low leakage, fast response time and low clamping voltage. Packaged in the DFN0603 (0201), these devices are specifically designed to protect sensitive components connected to data and transmission lines from overvoltage caused by ESD (electrostatic discharge) and EFT (electrical fast transients).
Ultra small footprint and super low profile, these devices are ideal for smart phones, USB3.0 and other portable applications that have space constraints. The GSEN5B153 has 20V clamping voltage rating and is ideal for use in audio lines, speakers, headsets, microphone protection and other Human Interface Devices (HID) such as keyboards, touchpads and buttons. The GSEN5B001 has 20V clamping voltage rating and is ideally suited for display ports, mobile HDMI links, USB3.0, DS-ATA and other data transfer devices.
Good-Ark's GSEN5B153 delivers 70 Watts of peak pulse power (TP = 8/20 μS) with a medium capacitance of CJ=15pF typ. The GSEN5B001 100 Watts of peak pulse power also at TP = 8/20 μS and it has an ultra-low capacitance rating of Cj=0.13pF typ. Both have a junction temperature rating of -55 to +125°C, have a bidirectional configuration and are available in the tiny DFN0603 package.
As a franchise distributor, Omni Pro Electronics supplies Good-Ark Semiconductor Diodes, Rectifiers, Bridge Rectifiers, Protection devices (TVS, Chip Fuse & Thermistor) and MOSFETs (Small Signal & Power MOSFETs supported by Trench Technology) in through-hole to surface mount devices as well as wafer/bare die for hybrid applications.
Features & Benefits
Low Leakage Current
Low Clamping Voltage
Low Capacitance
RoHS Compliant
Halogen Free
GSEN5B153 Applications
Audio Line, Speaker, Headset, Microphone Protection
Human Interface Devices (Keyboards, Touchpads, Buttons)
GSEN5B001 Applications
USB3.0, Firewire, DVI, HDMI, S-ATA
Thunderbolt, Display Port DFN0603 Schematic Diagram
Mobile HDMI Link, MDDI, MIPI, SWP / NFC