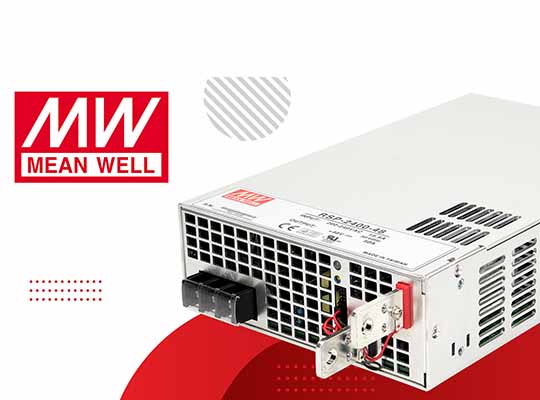 Mean Well brand and its selected products
Mean Well DC power supply series
Overview of functions
Many industrial and household appliances require direct current to operate. At the same time, almost all of these devices are powered from the power grid, in which – obviously – there is alternating current. Moreover, it has different voltages, depending on the location of the globe. Therefore, the basic component of most electrical devices is a DC power supply. Its task is to supply stable voltage of specific characteristics to electrical circuits and electronic systems. Of course, a similar task may be performed by a transformer coupled with a bridge rectifier or even a simple electronic circuit, such as a transformerless power supply commonly used in LED fluorescent lamps. However, such solutions are characterised by a number of drawbacks, such as low current efficiency, susceptibility to disturbances in the power grid, lack of safeguards to protect the power supply as well as the user. Moreover: failures of domestic appliances, or even industrial machines, very often originate in power supply systems, which, as a result of overheating, wear and tear of components or contamination, either malfunction or even cause damage to the powered components. The conclusion here is clear: when designing a device, the quality, durability and functionality of the power supply should be of utmost importance.
Mean Well brand and its selected products
TME offers a number of power sources with various parameters and scopes of application. Below, you will find a description of selected products from one of the largest global suppliers – Mean Well. The full range of products from this brand is extremely wide. The solutions described here include medium and high power DC power supplies (from 720W to 10000W) designed primarily for industrial systems, but also well adapted to a number of consumer applications (household appliances, electric vehicle chargers, etc.). We hope that such information will help our customers answer a basic but also challenging question: how to choose the right DC power supply?
Mean Well DC power supply series
All the power supplies presented here are switched-mode devices designed to be built-in and are contained in metal enclosures for good mechanical resistance, EMI (electromagnetic interference) and ESD (electrostatic discharge) protection as well as heat dissipation. Each model features a single output and maintains rated parameters at full load. Other features of the power supplies depend on the specific series and model.
CSP-3000 series

CSP-3000-120
Switched-mode power supply: CSP-3000-120
The power supplies in this series provide 120V to 400V DC (depending on the model), which can be programmed within the range of 20% to 100%. Two setting methods are available: either using the built-in potentiometer or the control voltage supplied to a dedicated input. Cooling of the power supply is assisted by a fan whose speed depends on thermal conditions – the unit can operate over a wide temperature range, up to 70°C (all products described here tolerate up to 60°C). The unit's circuitry includes active EMI filters, surge arrestors, and a number of protections, including short-circuit, overload, and temperature protection.
| | |
| --- | --- |
| | Specification |
| Power | 3000W |
| Power supply voltage | from 180V to 264V AC, from 254 to 370V DC |
| Rated output voltage* | from 90V to 400V DC |
| Efficiency* | from 92% to 93% |
| Weight | 4kg |
* depending on the model
DPU-3200 series
Compact power supplies with a wide range of input voltage and 3200W output power. They are characterised by their low profile and good efficiency. These products meet the requirements of the IEC 62368-1 standard relating to power sources for data communication systems, office and audio/video equipment. Like many of the devices included in this list, they can be switched on/off remotely, connected in series and transmit a signal indicating correct operation (or: failure). Here, the setting range for the output voltage ranges from 50% to 125% of the rated value.

DPU-3200-24
Switched-mode power supply: DPU-3200-24
| | |
| --- | --- |
| | Specification |
| Power | 3200W |
| Power supply voltage | 90-264V AC (47-63Hz), 254-370V DC |
| Rated output voltage* | 24V or 48V DC |
| Efficiency* | up to 94.5% |
| Weight | 2.76kg |
* depending on the model
DRP-3200 series

DRP-3200-24
Switched-mode power supply: DRP-3200-24
The series includes units designed to be mounted in 19-inch racks. Thanks to the possibility of connecting them in series (the so-called baying), they can deliver up to 12800W (single shelf, 4 power supplies) and a maximum of 25600W (two shelves) – all that while taking up very little space. These products are equipped with a PMBus-compatible communication module for remote voltage and current setting, power on, as well as retrieval of current operating parameters.
| | |
| --- | --- |
| | Specification |
| Power | 3192W or 3216W |
| Power supply voltage | from 90V to 264V AC, from 127V to 370V DC |
| Rated output voltage* | 24V or 48V DC (adjustable) |
| Efficiency* | 93.5W or 94.5% |
| Weight | 2,65kg |
* dependig on the model
RSP-1000 to RSP-3000 series
The number included in the series name indicates the approximate maximum output power of the power supply. All models marked with the RST symbols are characterised by similar functionalities, which include overcurrent and overvoltage protection or output voltage control. At this point, it is worth noting that the potentiometer used for adjustment is connected to a socket at the back of the enclosure, so it can be placed outside the control cabinet, e.g. on a control panel accessible to the operator. Another practical feature (although not unique among Mean Well products) is automatic voltage drop compensation at output leads. RSP products also offer a very good MTBF (Mean Time Between Failures) score of up to 313000h, which proves their high reliability.

RSP-1000-12
Switched-mode power supply: RSP-1000-12
| | |
| --- | --- |
| | Specification |
| Power | from 730W to 3000W |
| Power supply voltage | from 90V to 264V AC, from 127V to 370V DC |
| Rated output voltage* | from 5V to 48V DC |
| Efficiency* | from 80% to 92% |
| Weight | from 1.54kg to 4kg |
* depending on the model
RST-5000 and RST-10000 series

RST-10000-24
Switched-mode power supply: RST-10000-24
One of the most powerful units in the Mean Well range, capable (when connected in parallel) of delivering 20kW output power. Single power supplies offer maximum currents ranging from 105A to 400A at 4.8V to 48V – this means they can support many industrial applications and not only – these include apartment blocks, telecommunication centres (the units are properly certified) or machine parks and manufacturing facilities. The RST series requires three-phase power supply.
| | |
| --- | --- |
| | Specification |
| Power | from 4800W to 10080W |
| Rated output voltage* | from 5V to 48V DC |
| Efficiency* | from 88.5% to 91% |
| Weight | 10kg or 23.5kg |
* depending on the model
UHP-1000 and UHP-1500 series
The UHP series products are characterised by their compact design (41mm profile), silent operation (convection cooling, no fan), high thermal tolerance and suitability for household appliances. With a number of international certifications (Ul, EN, TUV), they can be installed in consumer household and electronic appliances. These models offer both voltage and current control.

UHP-1000-12
Switched-mode power supply: UHP-1000-12
| | |
| --- | --- |
| | Specification |
| Power | from 960W to 1512W |
| Power supply voltage | from 90V to 264V AC, from 250V to 370V DC |
| Rated output voltage* | from 12V to 48V DC |
| Efficiency* | from 94% to 96% |
| Weight | 1.74kg or 2.51kg |
* depending on the model
Overview of functions
Due to the fact that the Mean Well power supplies described here share a number of functions, below we present a brief description of those. There are minor differences between the series (number of alarms, parallel connection possibilities, etc.) – however, all products show similar capabilities.
PFC
PFC, or Power Factor Correction, is a method of reducing reactive power consumption. It allows to minimize losses and current demand. Active PFC systems present in Mean Well power supplies adapt to environmental variables (mains power characteristics, current consumption by the consumer device), thus saving energy and limiting interference occurring in the system.
Output voltage programming
The possibility of adjusting the output voltage is important for several reasons. It widens the range of applications of the power supply, allows to adapt it to the specific requirements of a given project, as well as facilitates the selection of a power source for devices requiring an unusual difference of electric potential. Output voltage control is achieved by applying a control voltage to a given connector. This function is useful both during the installation of the PSU (it offers the possibility of precise calibration) and allows to change the setting during everyday operation of the machine/device – the need for adjustment may occur e.g. in manufacturing processes.
Output voltage compensation
Naturally, all good quality DC power supplies feature output voltage stabilisation systems. Mean Well products have an extra function: compensation of voltage drops occurring at output leads (they may be significant, especially in machine park conditions). In order to use this function, the power supply's measuring inputs should be connected to the consumer device by means of an additional pair of cables.
Alarm signal
Mean Well power supplies signal the occurrence of a failure by feeding a specific status signal to dedicated pin(s) or by closing the relay connection. Depending on the model, alarm is triggered by: output voltage drop below a certain value (e.g. 65% of rated value for RSP series), power supply problem, fan stoppage, overheating.
Remote shutdown
Mean Well products can be switched off remotely – this function is featured in all products described here. Switching off the unit via a mains-independent circuit facilitates installation, protects users/operators and extends the life of the power supply.
Parallel connection
In some systems, especially industrial ones, the current demand exceeds the capacity of a single power supply. It also happens that during scaling up, e.g. expansion of a server room, increase of the output power of PSUs may be needed. Therefore, Mean Well products have been designed for parallel connection to achieve better current parameters. Most of the described models can cooperate with several identical power supplies. To connect them, you only have to use cables (no external components). In such a configuration the units also share control signals, e.g. remote switching.