Automotive sector is under great transformation and traditional automotive industry is changing very fast. Today's automotive industry is focused on safety and security through widespread adoption of self-driving vehicles and connected cars. The key to success is practical commercialization of advanced technologies, such as communications and artificial intelligence (AI), which requires cooperation with a variety of industry organizations.
Electronics industry is participating & contributing to this transforming journey. In this article we will cover one important and widely accepted technology known as PCIe. Future Cars /Connected Car will have more and more electronics inside – many sensors to monitor all parameters (Fuel, Tire Pressure, Speed, Temp, Air Quality, Camera Unit, LiDAR, Radar Sensor, Ultrasonic Sensor ,Infrared Sensor etc) for better customer experience and safety.: Advanced Driver Assistance Systems (ADAS) is an integrated part of connected cars/ autonomous cars and ADAS promise to enhance vehicle safety by helping to simplify the driving process, reducing sources of driver distraction and inattention that often lead to accidents. With ADAS support, drivers and their passengers can hope to find safer roadways, countering deadly trends in motor vehicle accidents. Telematics Connectivity Unit (TCU) will also collect a lot of data and this data need to process and analyse for faster result and decision.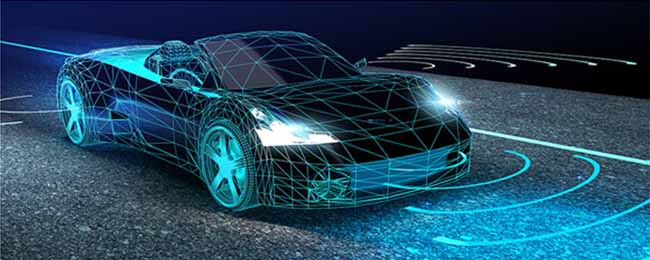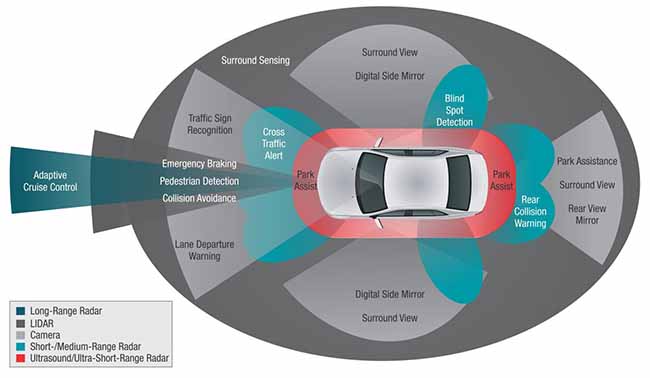 All data collected by sensors, navigational aid system etc need new technology interfaces to connect and talk with other system installed in connected cars.  Faster connection of various modules will ensure faster data processing for real time decision making and ensure passenger safety. Data processing is possible when system on board have data centre class computing power & highly reliable interconnect. For V2x or V2V technology TCU need highly reliable and high-performance computing interconnect technology. In Vehicle Infotainment (IVI) system along with other control and display units need similar technology to communicate & coordinate with each other. PCIe is right candidate for such scenario.
PCIe – Brief Introduction:
The Peripheral Component Interconnect Express (PCI Express or PCIe) is a high-speed interface standard for connecting additional graphics cards (GPUs), Local Area Network (LAN) ports, NVME solid-state drives (SSDs), Universal Serial Bus (USB) ports and other hardware to a computer's motherboard.
PCIe since its inception in 2003 is evolving to meet high speed data transfer from telecom, data centre and other application including telecom. Below table shows PCIe journey.
PCI Express: Unidirectional Bandwidth in x1 and x16 Configurations
| | | | | |
| --- | --- | --- | --- | --- |
| Generation | Year of Release | Data Transfer Rate | Bandwidth x1 | Bandwidth x16 |
| PCIe 1.0 | 2003 | 2.5 GT/s | 250 MB/s | 4.0 GB/s |
| PCIe 2.0 | 2007 | 5.0 GT/s | 500 MB/s | 8.0 GB/s |
| PCIe 3.0 | 2010 | 8.0 GT/s | 1 GB/s | 16 GB/s |
| PCIe 4.0 | 2017 | 16 GT/s | 2 GB/s | 32 GB/s |
| PCIe 5.0 | 2019 | 32 GT/s | 4 GB/s | 64 GB/s |
| PCIe 6.0 | 2021 | 64 GT/s | 8 GB/s | 128 GB/s |
Why PCIe?
Selection of PCIe technology in ADAS & similar applications in automotive is based on many factors and advantages offered by PCIe standards /technology such as
High speed technology and evolving with time.
Low latency technology
Flexible and scalable to meet current and future data handling demand.
Established & evolving standards are generic, and this leads to lower cost of system ownership.
Interoperability which offers cost effective solution to automotive industry.
End to End solution using PCIe technology.
Multiple players- ensure cost competitiveness.
Anritsu Test Solution to PCIe Receiver/Rx compliance testing:
Anritsu is a leader in test and measurement to support these automotive advances based on the following:
Comprehensive experience in leading-edge wired-to-wireless measurement technologies including the evolution and implementation of 5G;
More than 120-year history in radio applications with a wide product line covering optical, transmission, wireless, and protocol fields;
Good reputation for providing flexible and responsive service and support to global customers.
Anritsu Signal Quality Analyzer MP1900A is approved by PCISIG for PCIe-Gen3 and Gen4.

Test procedure – Test procedure can be performed in 3 steps as mentioned below.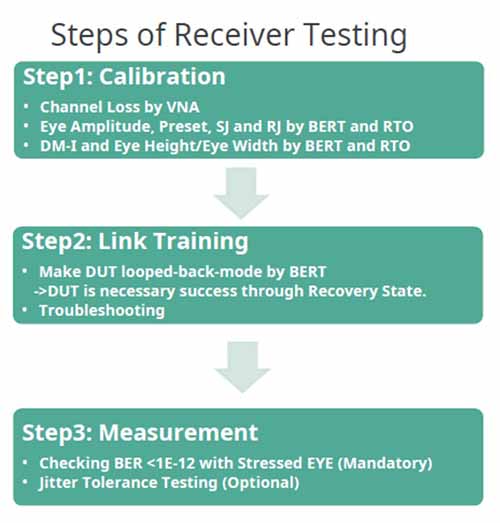 More detailed test procedure is available at www.anritsu.com
PCIe® solution for automated driving / Infotainment.
Signal Quality Analyzer MP1900A-R is also used for automated driving module and infotainment system testing having PCIe technology. Combination of MP1900A BERT and any make Osc ensures lower investment and less testing time. This ensures faster Time to Market which is one of the important factor for securing top position in competitive market.
Advantages of Anritsu BERT – MP1900A-R:
Signal Quality Analyzer/ BERT MP1900A offers following benefits to customers-
Reliable ty and more bandwidth.
Seamless support for entire debugging phase.
Easy and deeper debugging method.
Certified by industry.
Evolving technology support (PCIe Gen1 to 5 and 6 as well!!)
Anritsu already supports newly added below Gen5 functions:
Enhanced Link Behaviour Control
Precoding
SKP OS/EIEOS
MCP 5.0 Anritsu continue to support R&D of automotive technology with its test and measurement solutions and aim to achieve certification/ approval of next generation PCIe technology.