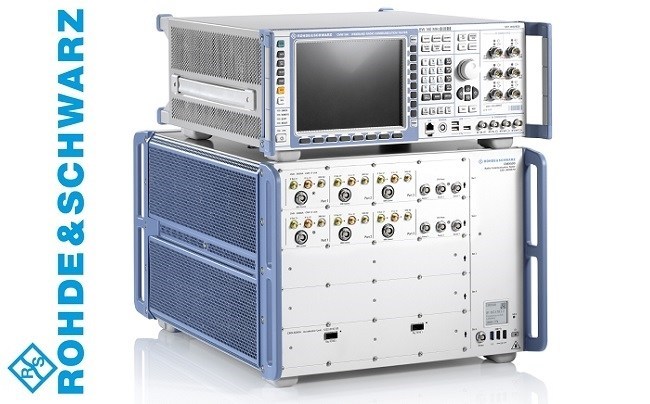 Columbia, – PCTEST Engineering Laboratory, a premier testing laboratory for wireless device testing including certification and R&D test, has selected the R&S CMX500 and R&S CMW500 radio communication testers from Rohde & Schwarz for 5G and LTE testing.
When used together, the R&S CMX500 and R&S CMW500 provide a seamless and comprehensive test platform capable of testing 5G NR devices in both standalone (SA) and non-standalone (NSA), TDD and FDD modes. In addition, the R&S CMX500 5G NR signaling tester unifies all test applications into a single user interface to cover RF Tx/Rx, IP performance, application, protocol and certification tests with a single hardware and software test platform. PCTEST will take advantage of this capability to meet FCC requirements for specific absorption rate (SAR) and RF (sub-6 and mmW) measurements on 5G and LTE devices.
5G NR and LTE continue to evolve together. 5G NR radio access networks will initially rely on the LTE core network in non-standalone mode (NSA) to allow operators to leverage their current LTE investment while taking advantage of the new features 5G has to offer. In the future, standalone mode (SA) will be deployed, but networks will still rely on LTE and a supplemental and fallback technology. Because of this, 5G NR device testing requires the capability to not only test 5G NR, but also advanced LTE features such as UL256QAM, DL1024QAM, 8CC carrier aggregation, C-V2X and much more.
"At PCTEST, we continue to invest in new testing capabilities to offer superior technical expertise and customer support. 5G is here today, and we're pleased to be working closely with Rohde & Schwarz to be in the forefront of technology in this fast-changing market," said Randy Ortanez, President, PCTEST.
"The R&S CMX500 tester provides a simple and cost-effective way to upgrade existing LTE test set-ups to include 5G NR testing capabilities. It has a modular design and a state-of-the-art web based user interface that makes it easy for users to configure to meet various testing requirements. The R&S CMX500, coupled with the industry's most-popular radio communications tester, the R&S CMW500, provides all the necessary test capability to test 5G NR devices both now and well into the future", said Bryan Helmick, Product Manager at Rohde & Schwarz.
For further information go to https://www.rohde-schwarz.com/product/cmx500.