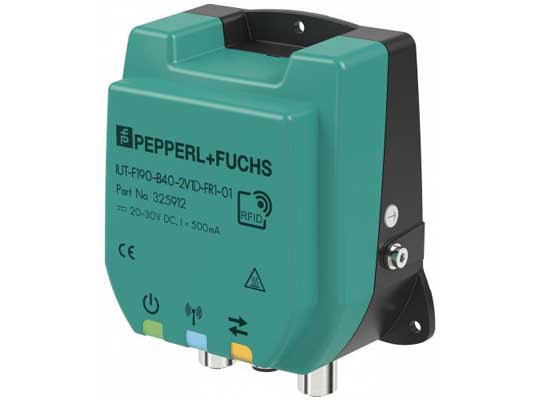 Pepperl+Fuchs is expanding its comprehensive portfolio of identification solutions with the introduction of the IUT-F190-B40 UHF RFID Reader, which offers an integrated industrial Ethernet interface and REST API. Using these interface technologies, the IUT-F190-B40, which is designed for medium detection ranges, can be quickly and easily integrated into OT and IT systems, making it an attractive solution for production control and monitoring, track-and-trace applications, and other Industry 4.0 applications in factory automation.
The IUT-F190-B40 offers the same key advantages as the other solutions in Pepperl+Fuchs' F190 product family: Its rugged IP67 cast housing and a broad temperature range makes it suitable for use even in particularly challenging industrial environments. Based on UHF RFID technology, this solution achieves high ranges (up to 6 m) and detection speeds and supports multi-tag reading. Emitting 1000 mW ERP with housing dimensions of just 114 x 112 x 63 mm makes the IUT-F190-B40 top of its performance class in the market.
Whereas Pepperl+Fuchs' other RFID read/write heads were mainly used in PLC applications via function blocks and the IDENTControl evaluation unit, the IUT-F190-B40 can be easily integrated into IT systems using the REST API. The UHF Reader can be fully parameterized and operated via this interface. In addition, the integrated web interface of the IUT-F190-B40 can be used for parameterization and commissioning.
The two integrated inputs of the IUT-F190-B40 can be used, for example, to connect light barriers without additional IO components in order to start and stop the reading process as required or to detect the direction of passage. Via the output, a signal lamp can visualize the readiness for operation or a successful reading.