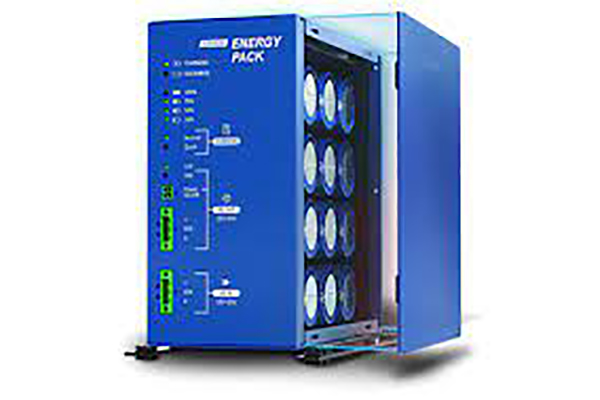 Premio launched a new industrial-grade supercapacitor power backup solution, the ECO-1000 Series "EDGEBoost EnergyPack," at Pack Expo 2023. Held from September 11 – 13 at the Las Vegas Convention Center, Pack Expo is the leading packaging and processing show, bringing exhibitors from 40+ vertical industries to showcase their latest innovations and products to more than 30,000 attendees.
The ECO-1000 EDGEBoost EnergyPack uses supercapacitor technology to enable configurable power redundancy for mission-critical applications that deploy industrial computers, displays, and panel PCs. The ECO-1000 empowers automation-focused infrastructure setups with an extra level of power efficiency and redundancy. In the event of power loss or instability, the ECO-1000 is designed to effectively provide sufficient redundant power to initiate a safe shutdown for data loss prevention and corruption.
"The ECO-1000 EDGEBoost EnergyPack represents a significant leap forward in energy storage technology, offering a robust power backup solution as more mission-critical computing workloads move into edge-native environments," said Robert Lu, VP of product engineering, Premio. "Supercapacitor technology triumphs over traditional batteries in these harsh environments, allowing instantaneous power charge and discharge to protect vital data at the rugged edge, a key requirement for real-time processing."
The ECO-1000 is available in two versatile configurations, offering a choice between 8x (with 100W power output) or 16x (with 200W power output) supercapacitors. The ECO-1000 comes as a modular, plug-and-play unit that allows for quick replacement and upgradability to reduce maintenance costs.
The ECO-1000 brings dynamic charging options in each configuration to meet various demands at the rugged edge and offers 10-year longevity and 500,000 charging lifecycles for enhanced durability. The ECO-1000 supports three types of smart power modes for intelligent power management dependent on the requirements of the application: Normal Backup, Ignition Control, and Battery Mode. Each mode provides a seamless method that leverages ignition control, remote power on/off, and electrical sensors to manage redundant power backup solutions efficiently and intelligently for a variety of deployment settings.
"As a leader in rugged and industrial computing design, Premio is committed to ensuring product reliability in the most unstable and harsh environments," said Dustin Seetoo, director of product marketing, Premio. "With our new ECO-1000 EDGEboost EnergyPack power backup solution, we are addressing key computing requirements for even greater data redundancy in mission-critical applications as data is processed in real time at the rugged edge."
Users can also streamline their operational processes with an interactive GUI and LCM display module. The GUI enables remote management through an output display module with user-friendly dashboard features for simple management, insights, and monitoring. An optional LCM module provides additional on-site monitoring and control to help minimize downtime and optimize productivity. The ECO-1000 brings safety and reliability to the rugged edge with its ruggedized industrial design. Supercapacitors boast high resistance and endurance in harsh environments that will not compromise energy storage, output, and overall longevity. Premio's ECO-1000 has been tested and validated for:
-25oC to 55oC Wide Operating Temperature
20G Shock Resistance
5G Vibration Resistance
Over Voltage/Current Protection
Reverse Protection
The ECO-1000 Series is UL Certified, complying with UL 62368-1 Ed. 3 for ultimate safety and reliability. The energy pack is also EN50155 certified for deployment in railway applications. The ECO-1000 empowers system integrators with a robust, mission-critical energy solution that ensures redundant power and safety for many key markets and applications, including:
Industrial Automation
Railway Solutions
Intelligent Transportation
Smart Energy and City