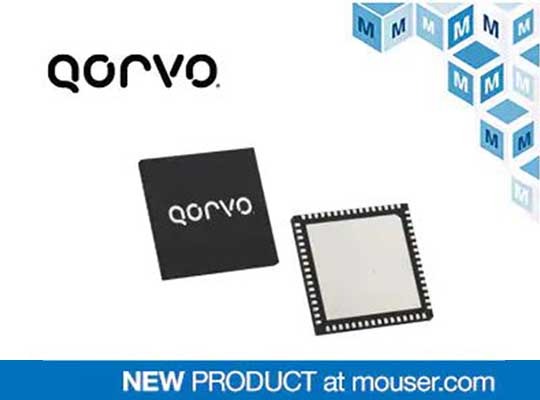 April 10, 2020 – Mouser Electronics, Inc., the industry's leading New Product Introduction (NPI) distributor with the widest selection of semiconductors and electronic components, is now stocking the PAC5524 motor controller and driver from Qorvo. The 70 V Power Application Controller (PAC) features increased input/output (I/O) capability and is optimized for a high-speed brushless DC (BLDC) motor control.
The Qorvo PAC5524, available from Mouser Electronics, features Qorvo's Multi-Mode Power Manager (MMPM), which delivers an all-in-one power management solution for multiple types of power sources. The MMPM features a configurable multi-mode switching supply controller that is capable of operating a SEPIC or buck converter and as many as four linear regulated voltage supplies.
The PAC5524 device is based on a 150 MHz Arm Cortex-M4F 32-bit microcontroller and integrates a Configurable Analog-Front End (CAFE) and multiple Application-Specific Power Drivers (ASPDs). The CAFE is comprised of three differential programmable-gain amplifiers, four single-ended programmable-gain amplifiers, digital-to-analog converters, comparators, and several I/Os. The ASPDs include integrated level shifters and pre-drivers designed for H-bridge, half-bridge, 3-phase, and general-purpose driving.
Qorvo's PAC5524 motor controller and driver offers 128 Kbytes of embedded flash memory and 32 Kbytes of SRAM memory. The PAC5524 also features several serial communications interfaces, a 2.5 MSPS analog-to-digital converter with programmable auto-sampling of up to 24 conversion sequences, and a flexible clock control system. The highly integrated device is housed in an 8 mm × 8 mm package, making it an ideal choice for compact, battery-powered BLDC motor applications that require additional I/O in order to implement value-add system control functionality.
To learn more, visit https://www.mouser.com/new/qorvo/qorvo-pac5524-controller-driver/.
As an authorized distributor, Mouser Electronics is focused on the rapid introduction of new products and technologies, giving customers an edge and helping speed time to market. Over 800 semiconductor and electronic component manufacturers count on Mouser to help them introduce their products into the global marketplace. Mouser's customers can expect 100% certified, genuine products that are fully traceable from each manufacturer.
With its broad product line and unsurpassed customer service, Mouser strives to empower innovation among design engineers and buyers by delivering advanced technologies. Mouser stocks the world's widest selection of the latest semiconductors and electronic components for the newest design projects. Mouser Electronics' website is continually updated and offers advanced search methods to help customers quickly locate inventory. Mouser.com also houses data sheets, supplier-specific reference designs, application notes, technical design information, and engineering tools.
For more information, please visit www.mouser.com.