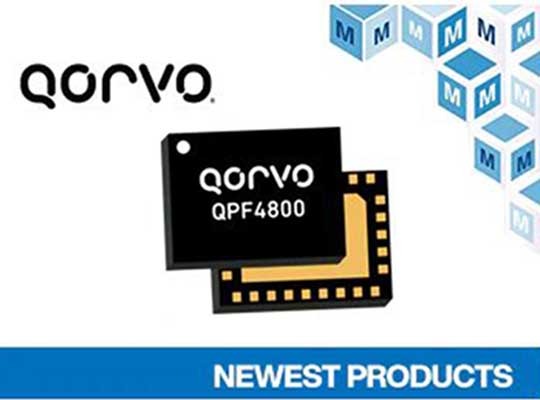 May 29, 2020 – Mouser Electronics, Inc., the authorized global distributor with the newest semiconductors and electronic components, is now stocking the new QPF4800 Wi-Fi 6 front-end module (FEM) from Qorvo. The dual-band FEM is designed for Wi-Fi 6 (802.11ax) applications, combining the high performance levels required to transfer HD and 4K video with the efficiency necessary for Internet of Things (IoT) applications. The highly integrated FEM is ideal for a range of Wi-Fi 6 applications, including wireless routers, customer premises equipment, access points, set-top boxes, and residential gateways.
The Qorvo QPF4800 FEM, available from Mouser Electronics, features 2.4 GHz and 5.0 GHz power amplifiers; two single-pole, double-throw (SPDT) switches; a regulator; diplexer; and a low-noise amplifier with bypass. The FEM is designed to support increased users per access point, increased per-user traffic demand, higher-density deployments, increased cellular offloading, and additional power and performance in Wi-Fi 6 applications. The high-performance FEM provides a transmit gain of over 29 dB and a receive gain of 14 dB, with a 2.6 dB noise figure when operating over a 5.0 V supply. Additionally, the QPF4800 provides the required density, capacity, and thermal performance for 4×4 MIMO operation.
The 4 mm × 3 mm, 28-pin QPF4800 FEM is supported by the QPF4800EVB-01 evaluation board, which optimizes the 2.4 GHz and 5.0 GHz power amplifiers and includes an antenna header, two transmit headers, and two receive headers.
For more information please visit at: https://www.mouser.com/new/qorvo/qorvo-qpf4800-dualband-wifi6-fem/.