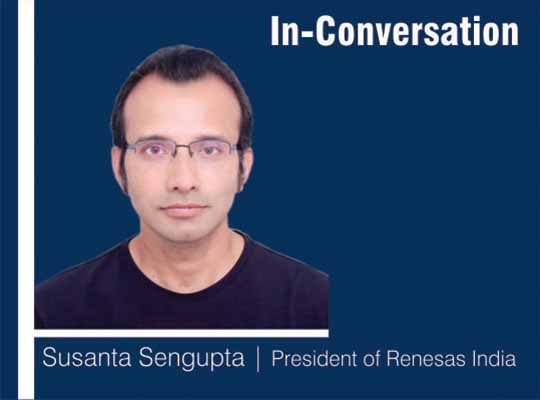 Post the historic merger of Renesas and Dialog Semiconductors, TimesTech Buzz talks to Susanta Sengupta, President of Renesas India about the ahead consolidated strategies, market-watch and how it is revving up for the Indian market. Don't miss out the edited excerpts below.
TimesTech Buzz: After one of the biggest successful mergers, Susanta Sengupta, the fusion you shall bring along in the leadership of these two companies?
Susanta: We are building solutions for the India market with our rich portfolio of Renesas and IDT product offerings. With the recent addition of Dialog products, we expect to get more share on embedded applications. Through such mergers, customers in India will have access to wider range of products of the companies they previously did not have access before. The development of Winning Combinations, provided by the System and Solutions engineering Team (SST), will accelerate through Renesas' rich product portfolio following these mergers. This is possible through my appointment as the head of India and Srikhanth as the head of the SST, Sales and Business Operations, as decision making will be done locally and therefore faster.
TimesTech Buzz: How the consolidated portfolio of advanced semiconductor and edge and computing enablers to benefit its customers vitally the Indian market?
Susanta: Today the Indian market is manufacturing more than 50% of its consumption, thanks to the PLI schemes by the Govt. of India which has motivated the consumption. This paves way for many more indigenous designs in the Indian market which could be well served with our enhanced product portfolios. The edge and computing enablers can help in digital vision plus security, authentication, and automated precise manufacturing techniques in India under my leadership.
In addition, Renesas can benefit customers by providing customers in India better access to the extended product portfolio, necessary support within the sales channel and over 260 Winning Combinations, which showcases the instant benefit customers can experience through comprehensive solution offerings.
TimesTech Buzz: With this merger, key strategies to offer a complete set of advanced solutions and which sectors will be of pivotal focus of the company given the Indian market?
Susanta: India has many high growth markets including telecommunication, renewable energy, IoT, electric vehicles (EV) and advanced driver assistance systems (ADAS). With the merger we can address almost all the markets with exception in FPGA intensive applications. Although we are not playing directly in the FPGAs, we have a lot of peripheral devices which enables the FPGA solutions.
We also plan to relocate the Renesas India to a larger campus in Bengaluru. The new campus will accommodate a comprehensive laboratory facility for development and testing of products and system solutions aimed for India.
TimesTech Buzz: Strategies to extend go-to-market initiatives and provide seamless and borderless services to customers across the globe.
Susanta: We have a huge presence in the world directly and with distributors covering most of the global geography. Our newly established local SST have put up many reference solutions worldwide that is extended to the customers across the globe. We have ecosystem partners around the world who enable our products on platforms of the customer choice. Through the appointment of Srikhanth as the local head of the SST, they will also develop unique, easy to use products that are tailored for the Indian market that best fit the needs of customers across India.
TimesTech Buzz: Impact of COVID-19 and how it has changed the end market landscape in India?
Susanta: IoT, digital connectivity and AI have played a major role during the pandemic. Their need has become even more important to keep up the business. This has motivated many small businesses to start embracing these platforms, and larger and niche businesses are going full fledge on AI. In addition, we have seen an increase in demand for PACE over CASE across the globe, as well as increase in demand in pulse oximeters and ventilators following the pandemic. We can provide such solutions and have offered free reference designs for ventilators during the height of the pandemic.
TimesTech Buzz: Wireless is a growing sector and RF front-end component demand is further fuelled by 5G MMIMO and hybrid beamforming architectures. Your pivotal focus to it.
Susanta: This is indeed a great opportunity for us, and we have the following for RF 5G components – Switches, LNAs, Gain Blocks, Pre-Drivers, Satcom LNAs, DSAs, VGAs, Bias Controllers. For 5Gm MIMO, we play into TRX Beamformers, Up/Down Converters, Integrated Front End, Demo Arrays, RX Beamformers, TX Beamformers, LNAs' and RX Modules. We have setup a design team in Bangalore, India, to focus on 5G MIMO and developing products specifically for this market.
With the acquisition for Dialog completed and as well as the recent announcement to acquire Celeno, Renesas has now expanded its communications portfolio with 5G and Wi-Fi 6/6E capabilities. The acquisition of these 5G and Wi-Fi 6/6E capabilities will enable us to deliver solutions for both client devices and access points to address the widespread adoption of 5G and Wi-Fi 6/6E.
TimesTech Buzz: According to you, the future of wide-bandgap semiconductors and the company's plan to expand its portfolio in this segment?
Susanta: We have invested in developing power amplifier (PA) products using "wideband semiconductors" such as Gallium Nitride (GaN) and hope to offer our products soon. We are going beyond the PA block itself and working on developing full solution for transmitters in base stations.
We have offerings for EV and Electric Trains. Alternate energy for fuelling is a very big opportunity in the future. Many other applications are coming up, such as high-power motor drives, fast charging adaptors, telecommunication, computing, to space applications. We have products based on "GaN" FETs already serving some of these markets.
TimesTech Buzz: Lastly, how imp is the Indian market for you and your key focus in this changing digital landscape?
Susanta: India has great potential as it is catching up with technologies at a rapid pace with many large and high-growth markets with a wide range of customers. Its rapid market growth is becoming increasingly crucial for Renesas' sales strategy, and Renesas is reassigning its focus on India by strengthening its local operations and cooperating with local distributors to maximize growth opportunities. India is also a market with a great talent pool, and we would like to utilize this talent pool for our strategic expansion in India.
We want to enable India to "Athma Nirbhar Bharat" in the field of solution and technology and also contribute heavily to the world market. In order to achieve this, we have strengthened the local team in India by appointing local leadership like Susanta and Srikhanth.