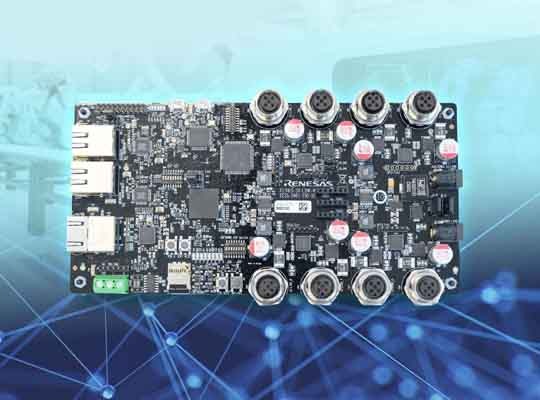 22 Nov, 2018, TOKYO, Japan ― Renesas Electronics Corporation today introduced a new IO-Link master development kit to accelerate IO-Link-based application development for industrial networked devices in a smart factory.
The development kit includes a board and pre-qualified sample software provided by TMG. The board has eight IO-Link connecters allowing developers to immediately connect IO-Link slave devices and start the evaluation process. The easy-to-use development kit contributes to shorter prototype-to-production process time and helps to reduce the development burden for engineers.
The solution is supported by two CPUs that operate independently and simultaneously with a large built-in SRAM. The eight-port IO-Link Master is controlled by one CPU; the other CPU features an R-IN engine architecture and supports Industrial Ethernet communication to the upper layers, such as PLC, without any external microcontroller, microprocessor, or memory like DDR. Integrating the two CPUs in a small 12mm x 12mm LFBGA package also helps with designing compact PCBs.
Key Features of the RZ/N1S IO-Link Master Solution
Strong development environment reduces the system evaluation period by up to six months
All-in-one development kit makes it easy for users to begin evaluation immediately and accelerate their time to market.
The board offers rapid prototyping with eight-port IO-Link connectivity and connections to any IO-Link slave device.
Pre-qualified sample software from partner TMG TE shortens the traditional time required to move from prototype to mass production.
Optimized design for limited space and industrial environments
6 MB of on-chip SRAM eliminates the need for external memory.
Small 12mm x 12mm LFBGA package makes the master solution ideally suited for printed circuit boards in space-constrained industrial applications.
"As a leading supplier of IO-Link master solutions, TMG has been supporting IO-Link developers since the technology has been released. The compact size, two integrated CPUs, one for IO-Link and the other one for Industrial Ethernet communication, make Renesas' RZ/N1S the ideal choice for typical IO-Link master applications. We look forward to providing our stack for IO-Link, PROFINET and EtherNet/IP to RZ/N1S users," said Klaus-Peter Willems, Managing Partner of TMG.
"For more than 25 years, Renesas has been providing a variety of solutions for the industrial automation market, supporting our customers as they catch the Industry 4.0 wave," said Akira Denda, Vice President of Industrial Automation Business Unit, Renesas Electronics Corporation. "This new IO-Link Master solution, which is supported by TMG for its protocol stack, will help developers bring innovative applications to market easier and more quickly, and to expand the use of IO-Link-based applications in a smart factory."
Renesas is demonstrating the new IO-Link master solution in booth 130, Hall 10.1, at the 2018 SPS IPC Drives, November 27-29, in Nuremberg, Germany.
For more information on IO-Link, please visit: http://www.io-link.com.