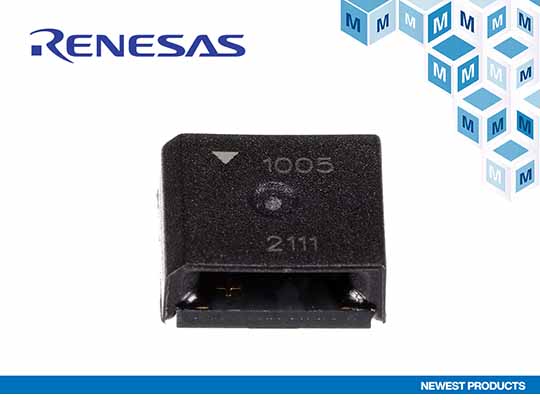 Mouser Electronics, Inc., the industry's leading New Product Introduction (NPI) distributor with the widest selection of semiconductors and electronic components™, is now stocking the FS1015 and FS3000 air flow sensor modules Renesas Electronics. The vertical-mount FS1015 and the surface-mount FS3000 provide precision air flow monitoring for detecting system failures, measuring air handling, controlling fan speed, and more in HVAC systems, analytic gas-monitoring systems, data centers, and air quality systems.
The FS1015 and FS3000 sensors, now shipping from Mouser, use a series of MEMS thermocouples to provide high-sensitivity air monitoring. Both sensors measure direct local air at up to 15 meters per second, allowing system control to adjust quickly, providing closed-loop control while achieving maximum efficiency and cost savings. The solid thermal isolation of the MEMS sensing element combined with a silicon-carbide film offers excellent abrasive wear resistance and long-term reliability. The FS1015 comes in a 28.2 mm × 14.2 mm × 7.3 mm package with leads for vertical mounting and screw-secured side tabs. The FS3000 module is available in an 8.0 mm × 9.1 mm × 4.4 mm surface-mount package ideal for low-profile applications.
As a global authorized distributor, Mouser offers the world's widest selection of the newest semiconductors and electronic components — in stock and ready to ship™. Mouser's customers can expect 100% certified, genuine products that are fully traceable from each of its manufacturer partners. To help speed customers' designs, Mouser's website hosts an extensive library of technical resources, including a Technical Resource Center, along with product data sheets, supplier-specific reference designs, application notes, technical design information, engineering tools and other helpful information. Engineers can stay abreast of today's exciting product, technology and application news through Mouser's complimentary e-newsletter. Mouser's email news and reference subscriptions are customizable to the unique and changing project needs of customers and subscribers. No other distributor gives engineers this much customization and control over the information they receive.