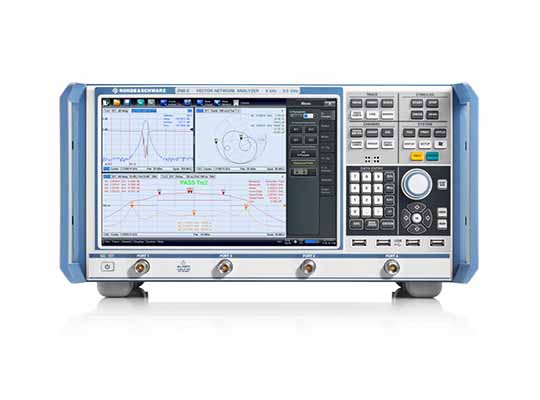 Munich — Automotive applications such as ADAS are driving in-vehicle network speeds higher, bringing a challenge to car manufacturers and component suppliers to ensure correct performance of the communication channel and avoid EMI issues. The TC9 group of the OPEN Alliance recently released the first version of a specification for testing components, link segments and the entire Ethernet channel for fully-shielded 1000BASE-T1 and 2.5/5/10GBASE-T1. The specification defines various RF performance parameters to be tested, for example insertion loss, return loss and cross-talk. This also includes requirements on the measurement fixtures, where Rosenberger offers a complete portfolio for a large variety of connector types – all designed and fully verified according to TC9.
During the successful demonstration, Rosenberger provided a fully-shielded H-MTD® cable assembly and a pair of matching measurement adapters 02K3E6-S00 with Rohde & Schwarz supplying the R&S ZNB8 4-port vector network analyzer. The performance of all individual components as well as the whole link segment was tested against the new TC9 specification and verified as compliant.
Dr. Nik Dimitrakopoulos, Market Segment Manager Automotive at Rohde & Schwarz, stated, "We are very happy to support Rosenberger, one of the leading cable and connector manufacturers, to verify their products against the new release of the TC9 test specification that includes MultiGBASE-T1 automotive Ethernet speeds with our R&S ZNB8 vector network analyzer. This is another example of providing our customers with confidence in verifying their cables and connectors against very demanding standards and emphasizes Rohde & Schwarz's commitment to a safer and connected world.
Hauke Schütt, Executive Vice President Test & Measurement from Rosenberger, adds: "Our Test & Measurement division supported the development of the Rosenberger H-MTD® interface with necessary measurement fixtures and accessories, which allows us not only to deliver highest quality products, but also to accurately verify the electrical properties of each single component. Our customers will benefit from the most innovative and flexible single pair system today, which is also expected to be a global standard for automotive high-speed data transmission. We are pleased to work with Rohde & Schwarz measurement instruments, and we appreciate their support in order to drive innovation with and for our customers."