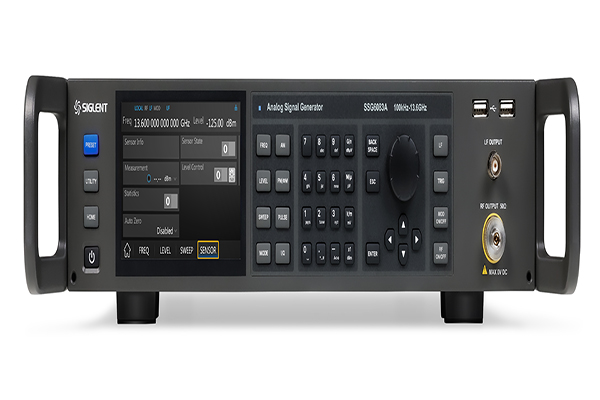 Saelig has announced the Siglent SSG6000A Series Microwave Signal Generators, with an output frequency range from 100kHz to 13.6/20/40 GHz. The three models SSG6083A/SSG6085A/SSG6087A all support AM and pulse modulation, pulse sequence generator, power meter control, and many other functions. With a standard OCXO reference hardware module inside, high-precision and high stability signal output is assured.
The SSG6000A Series meets the latest needs for microwave and mmWave testing in communication, aerospace, national defense, R&D, and production needs with advanced features and wide frequency range of 100kHz-40GHz.  The high output power of +22dBm means high power devices can be tested without any need for an external amplifier and it also offers the ability to overcome test system losses.  Other significant characteristics are a phase noise specification of -135dBc/Hz, low sub-harmonic signal components of < -80dBc, and low broadband noise of -155dBc.
The internal standard OCXO reference hardware module ensures a high-precision and high stability signal output. The pulse modulation on/off ratio is more than 80dB, and the rise/fall time is less than 15ns. The pulse train generator offers pulse widths from 20ns to 300s, with up to 2047 different pulses. The pulse repetition period can be changed from 1 to 65,535 to create a long, customizable pulse train for complex testing.
In addition to the instrument's 5" touch screen with keypad and front panel knob operation, two front panel USB ports are provided to accommodate memory sticks and USB power sensors. Multiple one-touch features enable users to quickly set up measurement parameters, including gated and external trigger modes.
SIGLENT SSG6000A Series Features and Benefits:
Models with frequency up to 13.6 GHz, 20 GHz and 40 GHz and 0.01 Hz frequency setting resolution
Level setting range: -130 dBm ~ 24 dBm
Phase Noise: -135 dBc / Hz @ 1 GHz, 20 kHz offset (typical)
Very low sub harmonic: < –80 dBc
AM analog modulation with internal, external or Int+Ext source
OCXO and step attenuator (0 to 110 dB, 10dB step)
Pulse modulation on/off ratio > 80 dBc (typ.) and the rise/fall time < 15 ns typ. (option)
Pulse train generator has pulse width of 20 ns to 300 s and up to 2047 different pulses (option)  
Power meter control kit to measure power, control power output and correct line loss
USB Host, USB Device (USB TMC) and LAN (VXI-11, Socket, Telnet), GPIB (option) and web browser control
The Siglent SSG6000A Series Microwave Signal Generators series can be used for characterizing broadband microwave components such as filters and amplifiers, and their excellent power stability means that they can be used for LO emulation, radar, receiver, ADC/DAC and component testing.