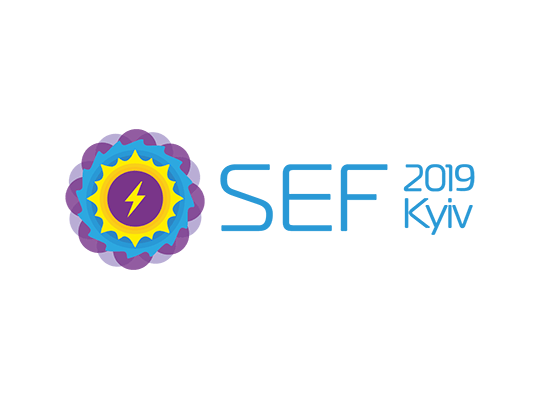 May 3, 2019, KYIV – The main event of the industry, the 11th Sustainable Energy Forum of the SEF 2019 KYIV and the trade show of Central and Eastern Europe will be held in Kiev on October 16-18, will showcase the latest solutions and techniques, identify global trends, most address Will develop solar energy, wind energy, bio-energy, hydrogen energy, energy efficiency, energy storage technologies and intelligent energy systems as well as project development Important issues related to legal and financial aspects.
Every year, sustainable energy has to face new challenges, but it also gets new opportunities for devel-opment. Thus, by 2019, about 2.4 TWh electricity from all renewable energy sources has been produced in the world, in particular, for more than 640 GW in Europe and Asian countries.
In 2019, the problem of green energy production management is particularly stressing and urges to build a more reliable, faster, flexible and intelligent infrastructure. In order to speed up the creation of new renewable energy facilities, the use of digitization and artificial intelligence will be used in the incentive industry, which will result in the change of industry's scope completely.
The SEF 2019 KYIV forum and trade show will last for 3 days, the event will be held in Kiev on October 16-18. This program will include more than 80 dignitaries who will present the most timely industry information, key trends and state-of-the-art technical solutions. Apart from this, experts will be especially focused on the latest legislative changes and political aspects of the n-allergenic region of Europe and Ukraine. The SEV 2019 KYIV forum includes the following events:
Oct. 16: SEF Solar Energy, SEF Legal and Financial Issues, SEF Artificial Intelligence in Energy
Oct. 17: SEF Distributed Generation, SEF Energy Efficiency
Oct 18: SEF Bioenergy
The forum will bring together more than 600 representatives from 37 countries, including the owners, mang-ear, CEOs of major international companies, as well as investors and entrepreneurs working in sustainable energy.
This year, for the third time in a row, SEF 2019 KYIV will identify the best ideas and projects in the field of sustainable energy, which make significant contribution to the development and development of the industry in the traditional SEF AWARDS 2019 festival. Which will be held on OC-Tober 16.
The biggest business show in Central and Eastern Europe will present the latest industry techno-geez: innovative ideas for modern equipment, latest solutions, modern services and efficient business development, as well as energy technologies that change energy scenario across the globe.
The trade show will be held in Kiev, M82 exhibition center (82, Mezh-yhirska str.) In Kiev on October 17-18, and more than 150 exhibitors – leaders, major market players and industry drivers – which will bring changes in energy. Europe and the whole world's coordination system that changes the energy coordination system of Europe and the world with its own inventions and solutions. Visitors to trade show will have the opportunity to communicate with manufacturers, content and components suppliers of inverters, PV-distributors, installers, as well as innovative solutions to know more about bioenergy and wind energy, anne-niring consultation and more. Information will be received in Regarding new business opportunities in the field of sustainable energy.
The series of powerful business programs will be supplemented by training sessions for solar en-allergy installer organized by Solar Academy, which is an integral part of the event.
SEF 2019 is organized by KYIV Innovative Business Center (IB Center), which has been a major producer of the largest conferences and trade show for more than 10 years, with new energy technologies, innovations and clean technologies as well as training programs and is dedicated to. Courses for solar energy installers.
SEF 2019 KYIV is a supplier of world-renowned experts, international sustainable energy market players, renewable energy and energy efficiency, state-of-the-art technical solutions in the field of companies and individuals, through its activities and achievements, the energy scenario of Central and Eastern Europe Are actively changing.
For more information, please visit at : sefkyiv.com