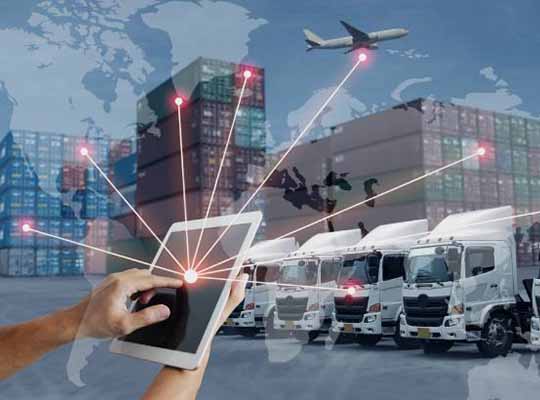 Technology has become the center stage of the fleet management nowadays and fleet managers need to adopt technological solutions to help users in making faster decisions and giving better responses. With employment of smart fleet management solutions, a lot of data has been generated. Utilizing the data to raise efficiency and roll down total cost of ownership is a major purpose behind deploying smart solutions. Automobile players and tech companies have been launching innovative solutions for fleets and aim efficient management. Customized solutions addressing the need of specific type of fleets have been tailored and employed. The market for smart fleet management is gaining momentum. According to the report published by Allied Market Research, the global smart fleet management market is expected to reach $537.53 billion by 2025. Following are some of the activities taking place in the industry.
The launch of new platforms equipped with novel capabilities to help organizations in efficiently and seamlessly managing their fleets is one of the major strategies adopted by tech companies. Aeris Communications, one of the leading internet of things (IoT) technology providers for organizations, launched a smart fleet platform. The platform aims to offer an end-to-end platform and telematics solution to improve operational efficiency for fleets. It is designed to address three major issues including theft, accidents, and efficiency faced by fleet owners. Aeris provides the platform equipped with live tracking and tracing of vehicles, alerts on theft, over-speeding, and crash, and easy navigation including maps. In addition, it has a single view dashboard showing trip data analytics and other important insights along with B2B web portal and mobile app access. Sameer Mahapatra, the Country Manager and VP Sales in India & SAARC at Aeris Communications highlighted that the platform aims to offer a seamless experience to its customers with a range of novel subscription-based fleet management services that helps in improving operation efficiency for users.
Riding on the wave of new launches, Shell launched an advanced fleet management system to reduce the total cost of ownership for users. Its new system includes Fleet Prepaid program and telematics to improve operational efficiency and offer protection against fraud. Parminder Kohli, the GM Business Development, Marketing and Operations for Fleet Solutions, outlined that the combination of new technologies, better connectivity, and improved services have reshaped the fleet sector. He added that the central focus of the company is to determine fleet management problems of customers and offer customized solutions that address their needs. The company aims to become the first choice of customers for sustainable mobility solutions.
Another automobile giant launched the new and advanced fleet management solution. Tata Motors launched Fleet Edge, a next-generation connected fleet management solution to enable better decision making. The solution offers real-time tracking and tracing, fuel efficiency, driving behavior, fuel-loss alert, and others. Girish Wagh, the President, commercial vehicle business unit at Tata Motors, stated that there has been a transformation with digital technology and connectivity solutions for goods and passenger transportation. Data insights gained through telematics open up new opportunities for logistics chains.
The company's new solution offers more information and better control over the fleet and operations. The data generated from the vehicles will be used to assist customers in improving operations. The solution offers a user-friendly dashboard on the portal and mobile app. The insights would help users make better decisions and operate fleets efficiently. It is available for the entire fleet of medium and heavy commercial vehicles (M&HCV), BS-VI range of trucks and buses, small commercial vehicle (SCV), and selected intermediate and light commercial vehicles (I&LCVs) models.
A leading tire manufacturer also realized the need to manage fleet intelligently and launched its own application. Goodyear, one of the leading tire manufacturers, launched a fleet-tracker application to assist fleets managers in managing their fleets in a more efficient and effective way. This application offers information on tires and treads levels. With the help of this application, users can determine the correct time to replace tire and plan the maintenance activity without facing any downtime. The company claimed that this application would help fleets in running their applications in sustainable way by maintaining tire casing in optimal condition and expand the tire lifespan. André Weisz, the Managing Director of Goodyear Proactive Solutions EMEA, outlined that the solution transmits a GPS-enabled signal to enable fleet managers and service providers enhance the vehicle tracking capabilities.
The solution has capability to store up to 55,000 records and transfers the data over the cloud with the help of local mobile networks. If the network connection is lost, memory capacity would store the data and send over the cloud once there is a connection. It also has built-in three-axis accelerometer that enables the system to go in the 'sleep mode' and activate ultra-low power state. The technology would be reactivated as the vehicle starts moving. GPS enabled signals are sent every 15 minutes, and uploading of data takes place every two hours. The interval for data transfer can vary as per the need of specific fleet and type of transport. 
About the Author:
Swamini Kulkarni holds a bachelor's degree in Instrumentation and control engineering from Pune University and works as a content writer at Allied Market Research. She is deeply fascinated by the impact of technology on human life and loves to talk about science and mythology. When she is not glued to the computer, she loves to read, travel and daydream about her areas of interest. email: swamini.kulkarni@alliedmarketresearch.net