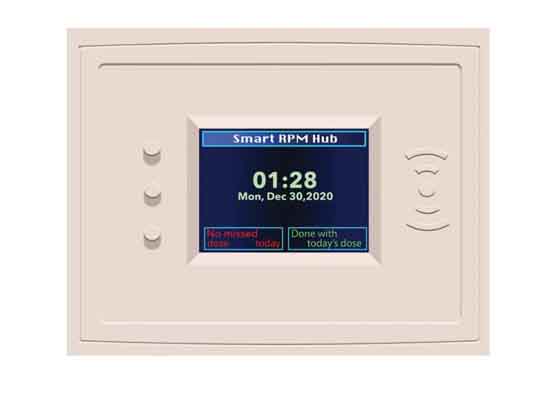 Nordic Semiconductor announces that U.S. smart medical and public health IoT and AI startup, NousLogic, has standardized on Nordic's multi-mode LTE-M/NB-IoT nRF9160 System-in-Package (SiP) across all three of its main product lines and company divisions. NousLogic says these are each designed to bring unprecedented and disruptive levels of real-time monitoring and unique end-to-end diagnostics to medical, healthcare, assisted living and public health applications for the very first time.
The NousLogic Healthcare Real-Time Locating Services (RTLS) platform targets infection control and compliance in hospitals, food outlets, and the hospitality sector by reminding workers to wash their hands. Using AI to analyze data obtained from wireless sensors attached to hand sanitizers and employee ID cards, NousLogic says not only is contact tracing supported but it will shortly be able to also assign each employee with a hand-hygiene compliance score to guarantee this vital hygiene procedure is being correctly performed and minimize contamination risks.
The NousLogic Telehealth Remote Patient Monitoring (RPM) platform targets the home health and assisted living market and enables the continuous real-time wireless monitoring of vital health parameters including blood pressure, blood glucose, blood oxygen saturation, body weight, temperature, ECG, medication intake via smart pill boxes and bottles, toilet habits, and daily routine via, for example, bed sensors. When combined with advanced data analytics, any changes in a specific health parameter can often be linked to a specific cause such as not taking a prescribed medication correctly. NousLogic has also developed a Verizon-certified version of this platform called the Smart HomeHealth Hub to support RPM patients worldwide without Wi-Fi in their homes.
Finally, the NousLogic Smart Access platform supports touch-free NFC video doorbell and door lock, gate or garage control. This enables users to screen visitors and caregivers and grant them access from anywhere in their homes, including from their beds without having to get up. To add a further layer of security and to support Covid-19 contact tracing, NousLogic says all of these touch-free activities are timestamped, logged and analyzed in its Cloud server.
NousLogic also additionally offers an nRF9160 SiP-based cellular IoT adapter board that allows any third-party Wi-Fi health platform to transition to LTE-M or NB-IoT. NousLogic says the main benefit is much faster installation by avoiding all the security overheads caused by joining a hospital's Wi-Fi network which requires a hospital IT team's approval. Instead cellular IoT offers a totally separate and still secure platform to Cloud link.
"We not only use IoT and data analytics to track who, what, where, and when in remote monitoring for healthcare, but go one critical step further and now provide the why and how," summarizes NousLogic Founder & CEO, Hoang Nhu. "This enables both high accuracy, automatic diagnostics and advanced preventative care that spots problems and negative trends early and before they become more serious."
Nhu continues: "Turning raw health data into useful and powerful health insights is a win-win for the health industry and every individual it affects, which is all of us. And at the right economies of scale, I believe such solutions could be delivered at a cost level that supports global adoption in both the developed and developing world that could improve the health outcomes of billions of people."