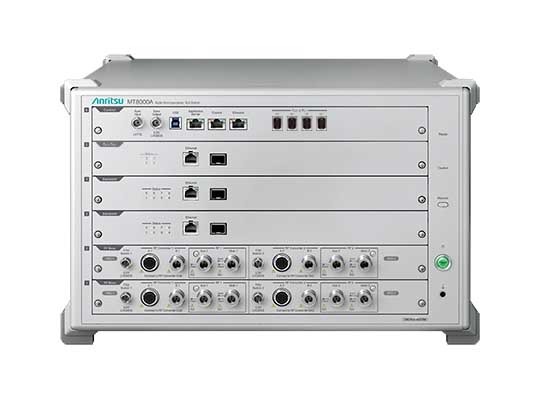 15, January, 2019: Anritsu Corporation is pleased to announce that Japanese mobile operator SoftBank has settled on using Anritsu's 5G NR Protocol Test Solution for 5G NR device acceptance inspection tests.
As a long-term partner with SoftBank, helping support their 4G device acceptance inspection tests, Anritsu is now delivering its new Radio Communication Test Station MT8000A and Carrier Acceptance Test Core Software (eSIDE) MX783480A suite for 5G NR device acceptance inspection tests, assuring smooth and seamless deployment of SoftBank 5G services.
Moreover, using the MT8000A and MX783480A as part of the 5G NR Mobile Device Test Platform ME7834NR assures futureproof upgradeability.
The MT8000A test platform is for development of new technologies, such as wideband signal processing and beam forming, required by 5G mobile communications systems. It operates as a base station simulator for testing the functions and performance of 5G terminals and chipsets under development. Just one MT8000A unit supports both the sub-6 GHz and mmWave frequency bands used by 5G, and combination with the OTA (Over-The-Air) chamber enables tests of mmWave signal quality and communications protocol in an OTA environment.
For more information, please visit at: www.anritsu.com