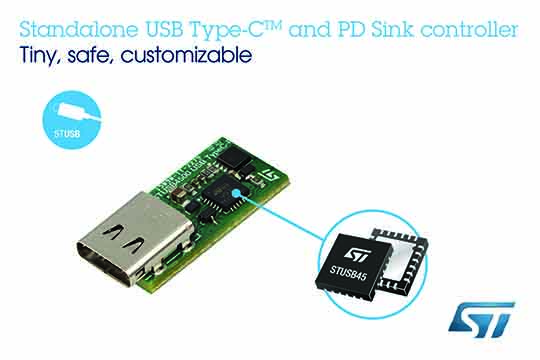 August 24- STMicroelectronics' STUSB4500 standalone USB Type-C and Power-Delivery controller extends the convenience and environmental benefits that come with powering and charging from a standardized USB-C outlet to a wide variety of consumer, industrial, and medical products.
Optimized for sink-only applications powered through a USB-C cable, the STUSB4500 is a certified standalone USB PD controller that can be easily customized by the end-user to suit the application.
Based on default power profiles (PDO) loaded in an internal non-volatile memory, the IC implements proprietary algorithms to negotiate a Power Delivery contract with a source without any internal support (Auto-run mode), making it the ideal device for automatic high-power-profile charging especially from a dead-battery power state. An application processor can then optionally and dynamically change STUSB4500 power profiles to force another negotiation.
The STUSB4500 supports multiple options to manage multiple input power paths and irrelevant power sources. With this device on-board, numerous types of portable equipment from 15W to 100W can replace a product-specific charger with a standard USB Type-C connection. These include toys, power tools, vacuum cleaners, office equipment, lighting products, smart speakers, medical devices, and many others.
Equipment normally AC-powered through a captive mains cable, such as small kitchen appliances, can also cost-effectively become DC-powered to simplify product design, reduce size and weight, and allow the option of cordless battery-powered operation.
Saving individual dedicated chargers and power supplies by migrating to USB Power Delivery controlled by the STUSB4500 enhances convenience and portability, and mitigates the environmental burden imposed by waste electrical equipment discarded with each product-upgrade cycle. More flexible charging options including fast-charging or charging multi-cell batteries above 5V are also possible.
The STUSB4500 is in production now, in the 4mm x 4mm QFN24 package, priced from $0.75 for orders of 1000 pieces. Engineering samples in an even smaller chip-scale package (CSP) will be available from mid-July on request.
For more information please go to www.st.com/stusb4500-pr.
Please visit www.st.com/fdax03d-nb for further information