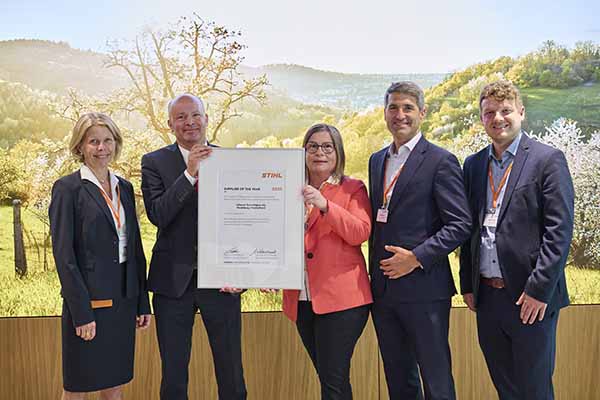 STIHL honors Infineon Technologies AG as "Supplier of the Year 2022" for being a highly reliable partner in terms of quality and delivery capability, even in a challenging environment. Infineon not only supports STIHL's battery strategy as a main supplier in the semiconductor segment, but also collaborates closely with STIHL in the area of research and development. The collaboration is to generate innovations in the field of energy-efficient motor control for battery-powered tools using compound semiconductors based on gallium nitride (GaN).
"STIHL and Infineon are not only united by a good business relationship, but also by shared basic values, our commitment to people and to the environment," said Richard Kuncic, Senior Vice President and General Manager DC/DC Business Line at Infineon. "We're thus very excited that STIHL has honored our dedication and performance with this great recognition as 'Supplier of the Year 2022'."
"Infineon has proven to be an extremely reliable partner who, even in times of chip shortages, has shown great flexibility in supporting us to further drive our strategy towards electrification," said Marc Moser, Senior Vice President Global Purchasing at STIHL. In particular, Infineon supplies MOSFETs and gate drivers and works with STIHL on application-optimized semiconductors.
STIHL presented the 2022 Supplier of the Year award to five companies that have scored particularly well among all STIHL suppliers worldwide for their outstanding characteristics in terms of quality, technology, innovation, service and price/performance ratio.