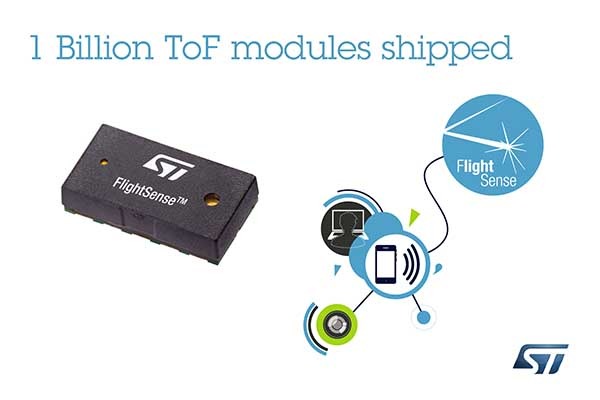 Geneva, November 26, 2019 – STMicroelectronics, has announced the shipment of its 1 billionth Time-of-Flight (ToF) module.
ST's ToF sensors utilize the Company's Single Photon Avalanche Diode (SPAD) sensor technology and are manufactured in ST's 300mm front-end wafer fab in Crolles, France. The final module, which integrates the SPAD sensor, a Vertical Cavity Surface Emission Laser (VCSEL), and the necessary optical elements to enable the product's outstanding performance, is assembled and tested in ST's state-of-the-art internal back-end facilities.
"ST has pioneered and transitioned Time-of-Flight technology from its research labs to a fully industrialized family of market-leading products that are now being used in more than 150 different smartphone models and have just passed the 1 billion module milestone," said Eric Aussedat, General Manager of ST's Imaging Subgroup. "In continuing to invest, ST has extended the FlightSense roadmap for Time-of-Flight products from high-performance 1-dimensional ranging devices to multi-zone solutions and most recently adding high-resolution 3D depth sensing capabilities to enable innovative applications using advanced proximity sensing, human presence detection, and laser autofocus."
The VL6180, VL53L0, and VL53L1 families of products, among others, are in high-volume production for consumer, personal computer, and industrial markets. ST's unique vertically integrated manufacturing model for the Time-of-Flight sensors ensures best-in-class levels of service, quality, customer support, and performance.
For more information, please visit at: www.st.com.