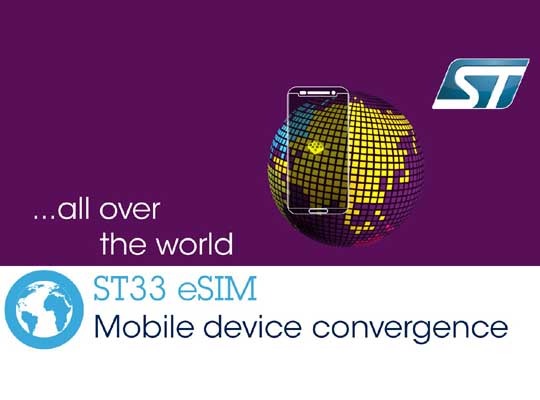 18 March 2019 – STMicroelectronics, a global semiconductor leader serving customers across the spectrum of electronics applications, will demonstrate its world-class products and solutions aimed at making industrial, automotive, and Internet-of-Things (IoT) applications smarter and more efficient at Electronica 2019 in Shanghai, China.
Making Industrial Applications Smarter
Smart industry initiatives are driving machines, factories, and workplaces to become more connected, intelligent, and aware for greater efficiency, reliability, and security. ST has the key technology building blocks and expertise required to help its customers overcome their technical challenges with leading-edge products or complete system solutions.
In the Industrial area, ST will showcase its leading industrial technologies addressing Condition Monitoring and Predictive Maintenance, Security and Connectivity, Artificial Intelligence, Motion Control, and Power and Drive.
The company will feature Condition Monitoring and Predictive Maintenance through a vibration-analysis demo with an inertial and environmental sensors node and connected via IO-Link to detect the status of the motor to predict possible failures.
Another highlight of the Industrial area is Artificial Intelligence (AI). STM32Cube.AI is a software tool, which optimizes DNNs (Deep Neural Networks) for a microcontroller. It takes the pre-trained neural network model output from a broad range of the most popular AI frameworks, and maps it to an optimized DNN that is adapted to the memory and processing-power capabilities of a target STM32 microcontroller.
ST will also demonstrate a range of Security and Connectivity technologies including an STM32WB-based smart-lock demo with Alibaba ID2, the IoT security service from Alibaba integrated in the STM32WB MCU, and other demos including an ST54 wearable NFC mobile payment solution and Presence demo for laptop user detection.
In Motion Control and Power and Drive, ST demos will include a 3D printer based on the STSPIN820 motor-control IC offering smoothness and silence. Panels for the STSPIN product family will also be on display.
Making Automotive Applications Smarter
Carmakers and their technology suppliers are reshaping mobility platforms and vehicles with the development of assisted and autonomous driving and the shift to more efficient and higher performing hybrid and electric power technologies. A leading provider of technology and solutions for the automotive industry, ST will be showing a broad range of technology solutions and demonstrations for both traditional automotive applications and cutting-edge technologies for next-generation automotive platforms.
In the Smart Driving area, a demo car will showcase ST's technology and product demonstrations for all key automotive subsystems, covering ADAS and Electro-Mobility, Body and Convenience, Telematics and Infotainment, and Powertrain, and Chassis and Safety.
ST will also show a range of its leading discrete technologies addressing Electric Vehicles (EVs), with a wall demonstrating an On-Board-Charger (OBC), an Aircon Inverter System, a Battery Management System, an Auxiliary DC-DC Converter, and a Traction Inverter for EV applications.
Other demos include ST's new-generation imaging sensor for an in-cabin driver-monitoring system and ST and partner demos addressing precise vehicle positioning.
Making IoT Applications Smarter
The IoT is opening the potential for billions of "smart" things to communicate with each other using the nearly ubiquitous Internet Protocol technology. And ST is already at the forefront in this wave of innovation by providing all building blocks to simplify and accelerate the development of Smart Things for the IoT.
In the IoT area, ST will showcase its rich portfolio of technologies and products covering a broad range of scenarios including IoT for Smart Things, IoT for Smart Home and City, Security and Connectivity, and Smart Phones, Tablets, and eReaders.
ST will feature its extensive IoT building blocks based on the STM32G0 microcontroller devices and demo boards; the BlueTile Bluetooth LE-enabled sensor node development kit; a dual-RF module panel; an NB-IoT module; security features on STM32L5 microcontrollers; and NFC tags and modules.
Other ST smart things on display include a wireless microphone, a motion-sensing smart toothbrush, a floor-cleaning robot, a smart POS and locker, a wireless charging solution, and a leveling control for smart lighting or smart speakers.
Technical Conferences
Technical conferences attended/held by ST at Electronica China 2019 will include:
Alexandre DA ROCHA, speaking on "Future Trends in Automotive Electronics" at Automotive Day (2nd Floor Banquet Hall, Sheraton Grand Shanghai Pudong Hotel) on Tuesday, March 19, at 16:30.
USB Type-C Power Delivery Seminar (Hall E5, SNIEC) jointly organized by ST and Würth Elektronik on Wednesday, March 20, at 13:00.
Andre TAN, presenting "Function safety and  information security based on STM32 in Industrial application" at International Embedded System Innovation Forum (2nd Floor, Room M31 in Hall E5,SNIEC) on Thursday, March 21, at 14:15.
Other Activities
Other ST activities at Electronica China 2019 will include:
Exhibiting latest Smart Industry applications together with other industry leaders at Planet e Smart Factory Hi-Tech Park (5100, Hall E5) Wednesday to Friday, March 20-22.
Onsite interaction "Learn STM32G0 to Win NUCLEO Boards" at ST Booth (4108, Hall E4), Wednesday to Friday, March 20-22.
Further information can be found at www.st.com