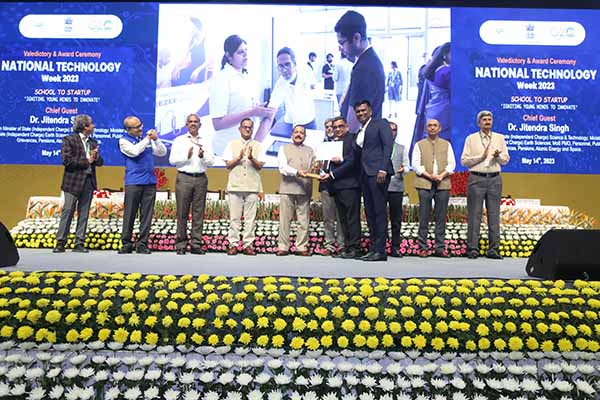 T-Hub has been declared the recipient of the esteemed National Technology Award for Best Technology Business Incubator. The award, presented as part of the National Technology Week 2023, recognises T-Hub's exceptional contribution to the promotion of techno-entrepreneurship development and the establishment of innovative, technology-driven startup enterprises in various technological domains.
The National Technology Awards, organised by the Technology Development Board (TDB), a statutory body of the Department of Science and Technology, Government of India, aims to acknowledge and reward Indian companies that have successfully commercialised indigenous innovative technologies. These awards, presented under five distinct categories—Main, MSME, Startup, Translational Research and Technology Business Incubator—provide a platform for the recognition of Indian industries and their technology providers who contribute to the vision of "Aatma Nirbhar Bharat" by fostering innovation and bringing new ideas to the market.
Mahankali Srinivas Rao (MSR), CEO, T-Hub said, "We are honoured to receive the National Technology Award for Best Technology Business Incubator.The recognition validates our unwavering commitment to fostering innovation and empowering startups to thrive. We are profoundly grateful to the Telangana government for their invaluable support, which has been instrumental in our journey. T-Hub's success is a testament to the collective efforts of our team and the invaluable partnerships we have forged with global and national corporate entities. We extend our gratitude to the Department of Science and Technology for this prestigious accolade."
T-Hub's win in the Technology Business Incubator category highlights its outstanding dedication to nurturing the growth of startups through its robust ecosystem. The incubator has played a pivotal role in the development of India's startup landscape, enabling startups to raise an impressive USD 1.9 billion in funding. T-Hub's extensive market connects, totalling over 3000, have helped startups gain a strong foothold in their respective industries, resulting in the creation of over 12,000 jobs. T-Hub has impacted more than 2500 startups, providing them with mentorship and support to scale their businesses through its comprehensive programs and initiatives.