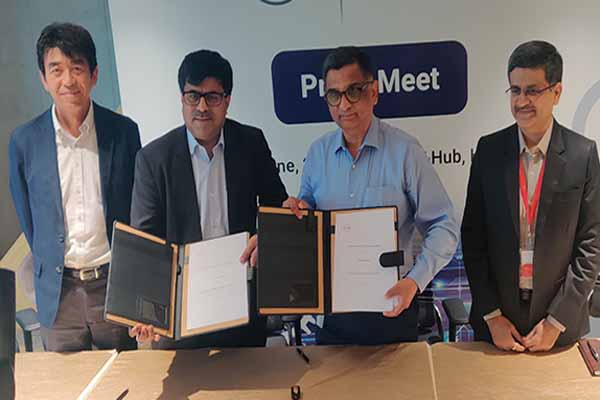 T-Hub has announced its strategic partnership with Renault Nissan Technology Business Centre India (RNTBCI), a global technical and development centre for the Open Innovation Challenge. The collaboration aims to run a corporate innovation ecosystem program that will connect startups with leading industry experts, provide proof-of-concept (PoC) grants, and facilitate engagement with startups for industry-driven use cases.
This partnership between T-Hub and RNTBCI will explore and leverage the creative potential of Indian tech startups in the thriving innovation ecosystem. T-Hub's extensive network and expertise in nurturing startups will enable RNTBCI to connect with leading technological startups possessing unique skills aligned with the Renault Nissan tech innovation ecosystem. By tapping into T-Hub's vast innovation ecosystem, RNTBCI aims to enhance its innovation capabilities and foster the growth of disruptive solutions within the mobility market.
Through this collaboration, T-Hub startups will have the opportunity to receive mentorship from Renault Nissan Tech experts, engage in paid PoC projects, and pitch their innovative solutions to the corporate leadership at RENAULT NISSAN. This exchange of knowledge and resources will enable startups to further develop their products and gain exposure to potential customers and investors.
Mahankali Srinivas Rao (MSR), CEO, T-Hub, said, "We are delighted to join forces with Renault Nissan Technology Business Centre India (RNTBCI) to foster innovation and empower startups in India. By joining forces, we aim to create a vibrant ecosystem that nurtures cutting-edge solutions and propels India's tech startup landscape to new heights. This partnership reaffirms our commitment to catalyzing the success of startups and propelling India's position as a global innovation hub."
Debashis Neogi, Managing Director, RNTBCI, said, "Today's mobility market is moving at a high pace of disruption with innovation as key business strategy. Innovation helps companies grow, differentiates amongst the competition, and keeps them profitable. It is important to leverage the technological potential of the fast-growing start-up ecosystem in India by collaborating with young tech start-ups. This collaboration with T-Hub will help promote the innovation ecosystem, supporting technology driven start-ups."
In addition to this exciting partnership, T-Hub announced the appointment of Sujit Jagirdar as its new Chief Innovation Officer (CIO) in a press conference today. With over 20 years of experience in IT and Business Process Consulting, Digital Transformation rollouts, and Designing Innovative Solutions, Sujit Jagirdar is a passionate leader who aims to promote open innovation by enabling collaboration and co-creation amongst corporates, startups, technology hubs and the academia. As a CIO, Sujit will focus on driving strategic engagements with corporates, ecosystem enablers, government bodies, and startups both nationally and internationally. Sujit Jagirdar plans to position T-Hub as India's pioneering innovation ecosystem, driving integrated solutions to achieve the organization's revenue goals.
Sujit Jagirdar, Chief Innovation Officer (CIO), T-Hub, said, "I am excited to join T-Hub as the Chief Innovation Officer. T-Hub has established itself as a world class hub of entrepreneurial talent and innovation, and I am keen to contribute to its mission of fostering ground-breaking solutions addressing some of the pressing business and societal challenges. "
T-Hub's programs have been successfully scaling startups in partnership with a robust ecosystem of partners. T-Hub, to date, has impacted over 2000 startups through various programs and initiatives, has over 600 global and national corporate partners and has provided 2000 mentor connects to help the startup scale. T-Hub will continue to drive collaboration between startups and leading innovation ecosystems worldwide, providing global market-access opportunities to startups.