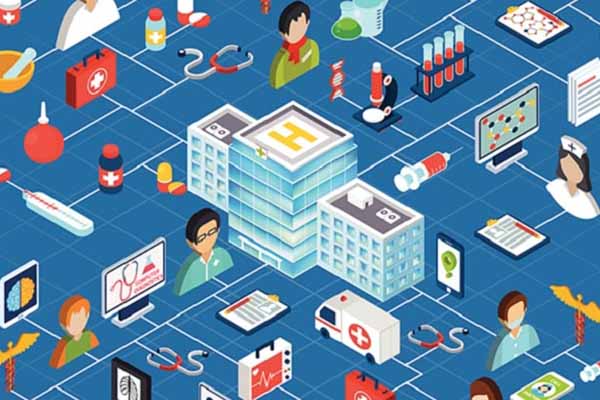 The COVID-19 pandemic has changed life as we know it. Even though it caused a widespread loss of lives, general anxiety, and economic breakdowns around the world, it has also accelerated tech disruptions and innovations across industries. Rapid digitisation and tech adoption have become widespread among multiple industrial sectors, and the medical and pharmaceutical industries are no different. Tech-enabled solutions have improved the efficiency with which the medical supply chain operated and ensured the quality and safety of the therapeutics administered.
The Indian medical and pharmaceutical supply chain industry is encountering phenomenal growth. According to a report published by JLL, the cold chain logistics sector is estimated to grow at a CAGR of more than 20% by 2025. This is due to many new trends emerging in the sector, usually tied to the employment of new technologies. Listed below are some of the most important emerging technology trends that are changing India's medical supply chain and are poised to reshape the entire sector.
Ultra-low freezers in vaccine cold chains
A temperature-controlled supply chain to deliver temperature-sensitive medical products has gained momentum. Moreover, during the COVID-19 pandemic the importance of ultra-low freezers (or ULTs) for the safe storage of vaccines increased significantly: before the pandemic, it was extremely rare to see them employed in vaccination campaigns, and they were almost exclusively used in research laboratories instead. Due to the temperature requirements of the new mRNA vaccines used to fight COVID-19 however, ULTs have now seen widespread use across the world, and their novel technological advancements enabled the introduction or improvement of features such as uniform temperature distributions, efficient monitoring systems, and rapid pulldown, holdover and recovery periods.
As vaccines may deteriorate and become spoiled if exposed to improper temperatures, ensuring that they reach the intended patient safely is a task that should not be neglected. It is why the vaccine cold chain is so critical and relevant today during the pandemic, as it ensures the effectiveness of entire vaccination campaigns around the world.
Sustainable health systems
Since some types of COVID-19 vaccines require an average temperature of -70°C to maintain their efficacy, there was an impending need for superior medical-grade freezers and refrigeration techniques. However, the use of hydrofluorocarbons (HFCs) and other medical-grade refrigerants with high global warming potential (GWP) in the past has triggered regulations such as the US SNAP and EU F-Gas programs, prompting several manufacturers in the medical cold chain field to switch to green gases and natural refrigeration models that minimise the environmental impact of their products and reduce emissions.
Today, B Medical Systems, a global leader in the medical cold chain industry, is one of the few players offering a broad and complete portfolio of medical refrigeration devices that use green refrigerants. The company has been manufacturing sustainable products since 2010, followed by the launch of the Solar Direct Drive (SDD) refrigerators and freezers that rely on solar power to ensure the stable and uniform intended temperature in the refrigerated space. To bring more sustainable products to the market, the company continued its efforts in increasing the energy efficiency of its devices and designed its portfolios of Medical Refrigeration and Blood Management Solutions to function with green gases. Meanwhile, to help hospitals in their sustainability efforts, B Medical Systems offers medical grade Laboratory Refrigerators, Pharmacy Refrigerators, Laboratory Freezers, Blood Bank Refrigerators, Plasma Freezers, Ultra-Low Freezers, and Transport Boxes.
Remote temperature monitoring systems
In the medical world, efficiently monitoring the refrigeration devices making up a cold chain is extremely important. The introduction of software temperature monitoring solutions at all levels in the clinical and research fields allows to reach levels of extensive security that was not possible in previous years. These innovative devices and programs enable healthcare workers to remotely monitor the internal and ambient temperatures of each cold chain equipment they use. This way, they can check the condition of the thermosensitive biologicals stored and ensure none of them is at risk of degradation. Moreover, the software allows for the monitoring of the opening of the units' lids or doors and the observing of the geographical position of the equipment via real-time GPS positioning.
Internet of Things (IoT), AI and Robotics
The IoT has been particularly impactful in powering the storage and supply of plasma vaccines and mRNA vaccines for COVID-19. One of the high points has been avoiding financial losses due to damage of products caused by delays and temperature inaccuracies. Web-based and data-driven interfaces such as the B Connected software and the Remote Monitoring Temperature Devices (RTMDs) by B Medical Systems ensure effortless, remote, and real-time temperature monitoring.
Inventory management and remote temperature control systems ensure better visibility of the products and their conditions. Moreover, if the data could then be used, as it is already happening, to understand customer behaviours and prepare against problems through precise predictive analytics via AI and machine learning, it would improve the overall efficiency of the supply chain and ensure the well-being of patients around the world.
Another interesting emerging trend is the adoption of drone-based deliveries. This has been introduced relatively late in India due to technical challenges. However, their recent rise is due to the following factors:
Enabling contactless deliveries with better accuracy and improved traceability.
Seamless and rapid deliveries to remote locations by avoiding traffic congestions.
Safe deliveries of hazardous and/or highly sensitive material by significantly reducing possible vibrations and hits during transport.
Moreover, the traceability of medical shipments, and vaccines in particular, has been critical considering the current COVID-19 pandemic. To improve traceability, technologies such as RFID tags are being used resulting in fewer manual errors and seamless product identification procedures, which in return result in better inventory management and a more secure supply chain.
Will innovation in the medical supply chain continue?
The aforementioned technology trends have gained paramount importance and are disrupting the way professionals think about pharmaceutical supply chains. They have also been the key drivers of rapid growth in this industry. According to Statista, the projected global biopharma cold chain product sales will reach USD 440 billion by 2024.
While along with the tech factors, the global pandemic has played a significant role in driving the progression of the Indian medical supply chain industry, it is, however, the constant push for domestic manufacturing and 'vocal for local' initiatives that is expected to keep this growth continuing even in the post-COVID era.
About the author:
Mr. Jesal Doshi, Deputy CEO of B Medical Systems, a global medical refrigeration device manufacturer, possesses a wealth of knowledge in private equity, economic insights, and corporate strategy. Since joining the company in 2015, Mr. Doshi has developed and implemented several initiatives that have transformed B Medical Systems from a regional/niche player to one of the most innovative companies in the medical refrigeration industry.