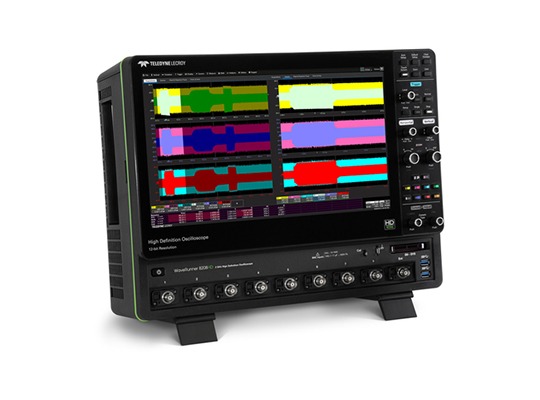 Chestnut Ridge, N.Y., October 3, 2019 –Teledyne LeCroy, announced the availability of the WaveRunner 8000HD High Definition Oscilloscope (HDO), the MDA 8000HD Motor Drive Analyzer (MDA), and OscilloSYNCTM technology.
Designers of high-power inverters and motor drives, such as electric vehicle (EV) propulsion drives, vehicle non-propulsion drives, and solar photovoltaic (PV) inverters require an accurate understanding of system power under varying loads (aka, dynamic power). At the same time, designers of embedded systems found in power conversion systems, consumer electronics, mobile devices, and automotive electronics must validate complex power distribution networks (PDNs). Both designers must correlate a significant number of power, sensor, and control events. The new WaveRunner 8000HD, MDA 8000HD and OscilloSYNC technology will help these design engineers more quickly and accurately characterize system performance in high power inverters, motor drives and embedded systems.
WaveRunner 8000HD Delivers an Unprecedented Combination of Capabilities
The WaveRunner 8000HD uses Teledyne LeCroy's HD4096 technology to deliver 12-bit resolution all the time across 8 channels, up to a market-leading 2 GHz of bandwidth and offers five times more memory than any other oscilloscope. The combination of 12-bit vertical resolution and high bandwidth enable better visibility into high-speed signal details. The higher channel count and long memory permit more signals to be captured over a longer period. This makes the WaveRunner 8000HD the best choice for design engineers with demanding embedded control system and power integrity debug requirements.
"With more signals, sensor inputs and power rails than ever, engineers need oscilloscopes with lower noise and more channels, resolution, bandwidth, and acquisition memory to understand and debug the tangle of tightly coupled signal interactions," said Tyler Cox, General Manager at Teledyne LeCroy's Oscilloscope Business Unit. "The WaveRunner 8000HD oscilloscope is unmatched in all of these specifications, allowing engineers to address these complex power conversion, embedded control system and power integrity issues."
Like its predecessors, the WaveRunner 8000HD contains an industry-leading, powerful and deep toolbox for analysis of electronic signals. Combined with HD4096TM High Definition technology, WaveRunner 8000HD oscilloscopes provide the most comprehensive and efficient debug and validation solution for complex electronic designs.
MDA 8000HD Provides Insight Across the Entire Motor Drive System
The new MDA 8000HD motor drive analyzer is the only product that combines the capabilities of a power analyzer with those of an oscilloscope. In this case, the MDA 8000HD leverages the WaveRunner 8000HD platform for unprecedented channel counts, memory depth, sample rates and bandwidth. The MDA adds the ability to perform comprehensive static and dynamic 3-phase electrical and mechanical power analysis for complete test coverage of the entire motor-drive system.
"Ubiquitous and growing in complexity, motors and drives are increasingly optimized for dynamic operating conditions," said Kenneth Johnson, Director of Product Marketing at Teledyne LeCroy. "Traditional power analyzer instruments have not kept up with industry needs for dynamic power analysis. At the same time, oscilloscopes have been the traditional tool for gaining insight into embedded control system operation. The two instruments historically have operated in different domains, making it difficult to correlate their respective data sets and leaving large gaps in engineers' knowledge of dynamic system operation. The MDA 8000HD closes this knowledge gap by offering complete insight across the entire system."
OscilloSYNC Doubles Channel Capacity
The new OscilloSYNC technology offers the flexibility to team two WaveRunner 8000HD or two MDA 8000HD instruments together. For the first time, users can view and control 16 synchronized analog channels from a single display and front panel—the equivalent of having a single 16-channel acquisition system. When necessary, design teams can exit OscilloSYNC and use each oscilloscope independently. No other oscilloscope manufacturer offers this level of flexibility or this many channels. This doubling of input channel count uniquely supports these key applications:
Power integrity measurements in embedded systems with more than 8 power rails and correlated current, clock, logic, sensor, and serial data signals.
Electrical Power Measurements on 3 phase motors where 16 channels are required to measure complete 3-phase AC input, DC bus, 3-phase drive output, plus calculate mechanical power output and efficiency.
Cascaded H-bridge (3-phase) inverter subsection analysis requiring 12-16 analog channels to measure six power-semiconductor outputs and six gate-drive signals with some scenarios adding three-phase output signals and one DC bus-voltage signal.
For more information, visit Teledyne's website at www.teledyne.com.