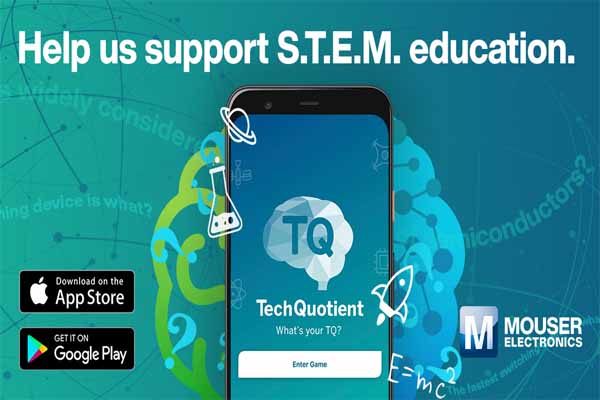 Mouser Electronics, Inc., the New Product Introduction (NPI) leader empowering innovation, has announced a new initiative that pairs its Tech Quotient trivia app with promoting science, technology, engineering and math (STEM) education. Celebrating the start of a new school year, Mouser will make a donation to local STEM education for each app download.
Tech Quotient is a fun app for mobile devices that tests players' technical knowledge, engineering know-how and pop culture acumen through entertaining tasks and quizzes. Tech Quotient offers players around the world the chance to compare their skills and knowledge in challenges ranging from word scrambles and crosswords to multiple-choice quizzes and ranking questions.
"Our Tech Quotient app is fun for players of all levels of engineering knowledge, and we're proud to announce this new program further bolstering our support of STEM education," said Kevin Hess, Senior Vice President of Marketing at Mouser Electronics. "We invite developers, engineers and tech enthusiasts from all walks of life to download the app and to challenge their friends, families, and colleagues to find out their own personal Tech Quotient."
As the authorized global distributor that specializes in serving electronic design engineers with the newest products and technical resources, Mouser sees the Tech Quotient app as yet another way of serving aspiring and professional engineers with fascinating content that inspires, engages and challenges their thinking.
Players receive merit badges for different technical achievements, and the game's top players are highlighted in a global leaderboard. Combining a broad spectrum of technical expertise with the occasional zany general-knowledge question, Tech Quotient keeps players on their toes and always offers a new, unique experience. To learn more about the Tech Quotient app, visit https://www.mouser.com/tech-quotient/.
Download the Tech Quotient app directly from the App Store at https://apps.apple.com/us/app/id1513923750, or from Google Play at https://play.google.com/store/apps/details?id=com.mouser.tech_quotient.