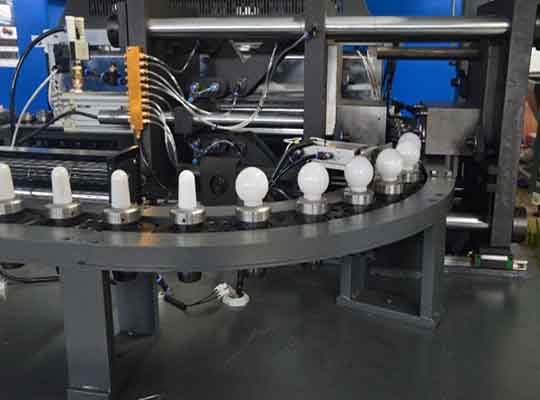 With the increasing rate of power consumption, the demand for an environment friendly and cost-effective lighting solution is rapidly gaining traction. In the recent years, LED lighting has started to considerably penetrate the mainstream general lighting market of India. Hence, the LED Lighting Market in India is projected to grow at a CAGR of 23.6% during 2019-2025.
Major players operating in India LED lighting market includes Philips India Ltd., Surya Roshni Ltd., Harvell's India Limited, Shree Sant Kripa Appliances Pvt. Ltd, OSRAM India Private Limited, Crompton Greaves Consumer Electricals LTD, Halonix Technologies Limited, Panasonic India, GE Lighting India Pvt. Ltd., Bajaj Electricals Limited, etc.
The industry is evolving rapidly due to the shift from conventional bulbs to LEDs, which is being driven by increasing government energy conservation initiatives. The aim of such initiatives is to increase awareness among the consumers regarding the adoption of LED bulbs over conventional lighting sources such as incandescent bulbs, CFL and halogen lights.
The Initiatives such as Unnat Jyoti by Affordable LEDs for All (UJALA) and Street Lighting National Programme (SLNP) remained the biggest demand drivers for the LED lighting market in India.
Let's have a Look on India's LED Lighting Manufacturers & their Key LED Products
MIC Electronics – Headquartered in Hyderabad the company is a global player in design, development and manufacture of LED video displays, as well as high end electronic and telecommunication equipment. Since its inception, it has grown from strength to strength, currently meeting the demands of its customers worldwide, from its offices in Australia, Korea and USA.
Manufactures: LED video displays (indoor, outdoor and mobile), indoor and outdoor lighting, solar lighting, etc
Promptec Renewables Energy Solutions Pvt Ltd
Headquartered in Bengaluru Prompt Renewables manufactures electronic components for the solar power and LED lighting industries, as well as for other renewable energy industries. It has 1858.06 sq m scalable LED light and electronic manufacturing facility with SMT lines.
Manufactures: Lighting systems, LED lighting fixtures, LED drivers, charge controllers and DC appliances
Avni Energy Solutions Pvt Ltd
Located in Mumbai, Avni has a dedicated and full-fledged design and development team taking the company ahead. It is an implementation partner for TERI in their LABL campaign. It has supplied to more than 20 municipalities across the country.
Manufactures: LED based lantern, downlight, streetlight, industrial light and flame proof lights.
Goldwyn Ltd
Located in Noida, Goldwyn Ltd is engaged in design and manufacture of LED lighting and fixtures. It has a 9000 sq m state-of-the-art photometric laboratory that enables it to monitor all the critical parameters of its LED lighting and fixtures. Its LED lights have high reliability built into the design through years of research and development.
Manufactures: LED streetlights, flood lights, commercial lights, industrial lights and fixtures
Reiz Electrocontrols Pvt Ltd
Situated in New Delhi, Reiz is a specialist manufacturer of energy saving luminaires that are 'intelligent', due to the incorporation of sophisticated electronic control gear. Its innovative product development programme, coupled with attentive operations management and its ability to provide customers with an outstanding level of professional service, has resulted in the company developing an excellent reputation and a solid market position in India.
Manufactures: LED indoor lights, outdoor luminaires, LED modules, electronic control gear, etc
Binay Opto Electronics Pvt Ltd
Kolkata based Binay Opto has been a pioneer in the field of LED illumination in India for the last 30 years. The company has invented many LED lighting products for the Indian market and has many patents to its credit. Binay Opto was engaged in the indigenous manufacture of filament indication bulbs, and the firm's experience in filament lamp manufacture makes it ideally qualified to develop solid state LED replacements.
Manufactures: Lighting systems, aviation obstruction lights, architectural lights, streetlights, traffic lights, warning and signal lights
Kwality Photonics Pvt Ltd
Based in Delhi, Kwality is not only the first Indian company to have successfully established LED production in India but also commands the highest market share in domestic sales.
Manufactures: LED displays, LED lamps, IREDs (infrared emitters), photo transistors, photo detectors, flasher LEDs, hi-voltage LEDs, low battery indicator LEDs, hi-flux LEDs, LED clusters and filament lamp retrofits.
Karvin Power Systems Pvt Ltd
Karvin Power Systems is one of India's green business pioneers with a demonstrated track record in technology-based innovation that contributes to a clean and healthy environment.
Manufactures: LED tube light, street lights, flood Lights, high bay light, LED panel down lights etc
Climatrol Corporation
Climatrol Corporation is privately held Indian company specialised in design and development and manufacturing of LED lighting product. Climatrol is associated company of M/S Sidwal Refrigeration Industries Ltd which is well known brand in the field of refrigeration. Climatrol has also tie up with some India's big company for OEM's business in the lighting field.
Manufactures: LED street light, highbay light, panel light, down light, garden light, tube light, flood light
Abby Lighting & Switchgear Ltd
Abby Lighting is a manufacturing and supplier of lighting systems to major brand owners in the lighting industry. With it launching a new range of LED lights, Studio Abby—the company forayed into high end lighting doman. The company boasts of it inhouse processes like CNC turning, metalwork fabrication, powder coating, assembly, testing, etc.
Manufactures: LED recess lighting, downlighters, industrial and commercial lights