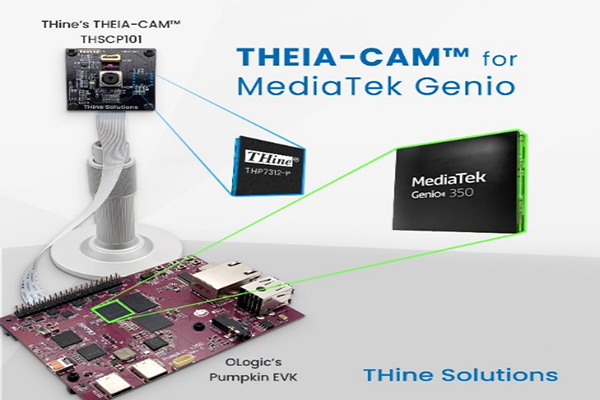 THine Solution announced the new THEIA-CAM 13MP PDAF Camera, the THSCP101, that provides high resolution image streaming with OLogic's Pumpkin i350 and Pumpkin i500 Evaluation Kits (EVKs). These Pumpkin EVKs are powered by MediaTek Genio 350 and Genio 500 System on Chips (SoCs), that provide edge processing platforms for AI + IoT systems.
The THSCP101 Kit is designed to interface to the Pumpkin EVKs and is based on THine's THP7312-P Image Signal Processor (ISP) and Sony's IMX258 13MP CMOS PDAF image sensor. The Kit includes all items required to interface with the Pumpkin EVKs, including a Camera Board in an acrylic case, a Flat Flexible Cable, an Adaptor Board to support 2 MIPI CSI-2 ports of the Pumpkin EVK, and an available software driver to stream and control images. The Kit can be easily set up by using a Video4Linux2 (V4L2) driver available at THine to control various video functions and the libcamera middleware stack to integrate into the complete MediaTek Genio SDK.
THine's optimized ISP firmware provides Best-in-Class image quality and ultra-quick autofocus using Phase Detection Autofocus (PDAF) technology. The performance of each Kit is repeatable for use in high volume production due to our production process to characterize the image parameters of each image sensor and to calibrate the image signal processing to compensate for variation from sensor to sensor.
All the Linux files and reference circuit schematics are available to customers. Also, for customers that require unique image performance features, THine can provide a GUI based software development tool that customizes the ISP firmware. As a result, the THSCP101 accelerates MediaTek Genio platform customers' time-to-market without expensive initial costs or additional effort for developing embedded camera systems.
"THSCP101 relieves the design burden for numerous customers of MediaTek Genio series SoCs who require a high-performance embedded cameras," said Tak Iizuka, Chief Solution Architect of THine Solutions, Inc. "Previously, developing a scalable integration of high-resolution and high-performance imaging capabilities to an AI + IoT system had been really difficult, but not anymore. MediaTek customers can now just plug the THSCP101 to Pumpkin EVKs and then see the state-of-the-art image quality just in a few minutes."
"It is quite a breakthrough for our solution offerings," said Ted Larson, CEO of OLogic, Inc. "We saw many customers who struggled to integrate high resolution cameras. Despite many camera-related components available in the market, it was almost impossible for them to even perform decent color tuning before going into production."
"Integrating THine's established vision system technology into our solution suite adds another advantage to our AI + IoT ecosystem," said Stéphane Le Provost, Senior Director of Technology at MediaTek. "This kit makes it simpler for customers to include camera systems in their products without having to manage the long and expensive process of developing and producing them from scratch."
THSCP101 Key Features
Compatible with OLogic's Pumpkin i350 and Pumpkin i500 up to 2 cameras each
Various High Resolution options including but not limited to 13MP at 20fps, 4K2K at 30fps, and 1080p at 60fps, all in YUV422 format.
Ultra-Quick Phase Detection Autofocus (PDAF)
Best-in-Class Image Quality with well-optimized Auto White Balance and Auto Exposure
Perfect Unit-to-Unit Image Quality for High Volume Production
Single 1.38" x 1.38" (35mm x 35mm) Camera Board