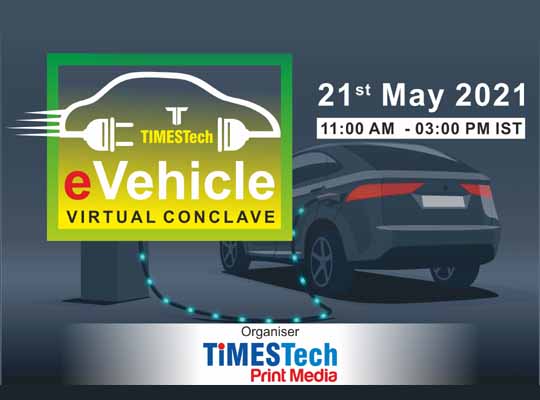 Indian electric vehicle story has certainly taken off. In the last few years, over 200 startups have sprung up to work in the EV ecosystem as manufacturers and service providers. The excitement around EV is ever increasing and the value chain is being created minus the flip-flop from the policy side.
India, home to 15 of the world's 20 most polluted cities, loses over a million lives every year due to pollution while it costs about 8.5% to the country's GDP. If the pollution is brought down by 20-30%, then 1.3 years will be added to the average age of the population in India and in 3 years to residents of Delhi and other most polluted areas of the country.
In this context, to showcase India as the next big hub of urban mobility and to learn from the best practices of the other countries, it is indeed our pleasure to inform you that Times Tech Print Media is organizing eVehicle Virtual Conclave, on 21st May 2021.
The summit will act as a knowledge sharing platform to discuss the various aspects of urban Mobility with a special focus on Electric Vehicles, Smart Cities, Smart Transportation, Future aviation car, Li-on Batteries-Technology and Recycling.
The policymakers, thought leaders, international experts, PSU leaders, industry leaders and innovators and most importantly EV experts will congregate to discuss on the mentioned topics.
Under the Paris Agreement, India has made some commitments, which include the country's greenhouse gas emission intensity of its GDP will be reduced by 33-35% below 2005 levels by 2030 and that 40% of its power capacity would be based on non-fossil fuel sources. This will compel India to adopt EV or alternative/clean fuel for vehicles. The government rightly understood the need for change and provided a push for electrification of the fleet; it has now even realized the need for a multi-pronged approach to reduce the pollution level.
Ashok Kumar, Director & Head of Marketing, TimesTech Print Media says "We are glad to organise TimesTech eVehicle Virtual Conclave on 21st May 2021. By launching this webinar our main objectives were to contribute to government of India flagship programs in the Urban Mobility Innovations & Urban Transformation with the works going on in the field of Electric Vehicle & Automation."
"In the last two-three years, India has seen a surge of over 200 startups which are working in the EV ecosystem, apart from the conventional players taking a strong plunge, hence on our platform the prominent speakers are going to discuss on the growth and development, Innovations & Future of Urban transformation." said Jitendar K Sagar, Director, TimesTech Print Media.