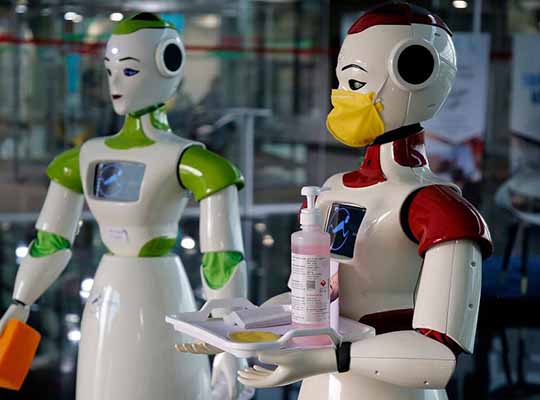 Robotics is not a new development. Robotics has always been a component of high-tech business. But today's breadth is much different. Robotics is being used in eCommerce, shipping, retail, healthcare, and more. Robotics and AI have a lot in common. The Centre for Artificial Intelligence and Robotics (CAIR) was founded in Bangalore in 1986, and the robotics sector has never looked back. Although India lags behind industrialized countries in terms of robotics, it has carved itself a place in the country's economy. It is one of India's most promising and fastest-growing technologies. In almost all labor-intensive sectors, it has revolutionized the way repetitive or complex jobs are completed. India now boasts a thriving robotics sector, dominated by a few major robotics firms.
Not only have robots taken on the appearance of people, but they are also capable of thinking and making choices like us. This development has been critical, particularly during the epidemic, as we seek to automate their jobs to minimize human interaction. Numerous robotics firms made significant advances this year in terms of invention, funding, and delivering timely applications that have elevated them to a position of prominence soon. Analytics India Magazine has compiled a list of the best robotics businesses to watch in 2021.
Here are the top new-age robotics companies in India that expand the definition of what a robot is.
Diligent
As a healthcare assistant, Diligent's Moxi robot assists healthcare workers 24 hours a day. It may assist in collecting patient supplies, the delivery of lab samples, the retrieval of things, the distribution of PPE, and the delivery of medicine. Its importance has increased significantly in the aftermath of the Coronavirus since it can minimize human involvement. Moxi is intended to be socially sophisticated, having human-like characteristics capable of making eye contact and lending a hand. Recent research has shown the critical nature of this for the seamless interaction of humans and robots. With healthcare automation accelerating in the aftermath of the pandemic and the growing importance of social intelligence in robots, Diligent's applications will become more critical soon.
AMP Robotics
AMP Robotics uses computer vision to categorize complicated material for trash segregation by processing millions of pictures. Neuron, the company's trademark platform, uses deep learning to enhance its recognition and categorization of materials such as paper, plastic, and metals based on their color, size, shape, and other characteristics. The Neuron is then utilized by a robot called Cortex to separate materials with a 99 percent accuracy. AMP Robotics was selected to the Cleantech Group's 2021 Global CleanTech 100 list, which honors creative businesses dedicated to providing solutions that improve the future.
Blue Ocean Robotics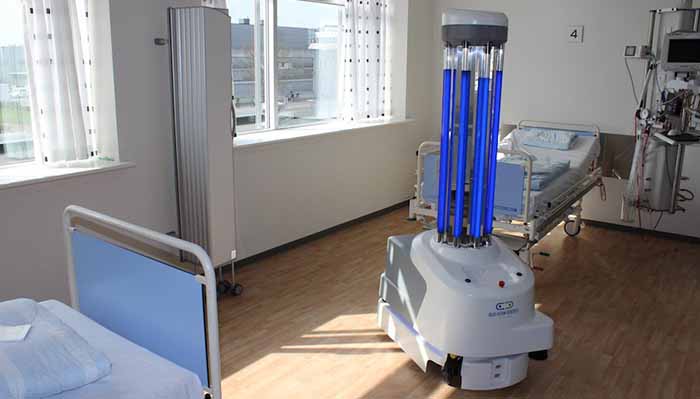 Blue Ocean Robotics develops service robots for use in healthcare, hospitality, construction, and agriculture. This year, the business received three honors. These robots are also very useful in the post-COVID future. One of them is a UVD Robot used to disinfect hospitals and was awarded the 2020 IDEA Award and the coveted Emerging Technology Award in robotics by the American Society for Mechanical Engineers (ASME). The firm was awarded a contract by the European Union to deploy 200 of these in European hospitals. The other, GoBe Robot, is a teleconferencing robot that, together with other robots, was honored by Frost & Sullivan with the Robot Product Leadership Award 2020.
Nuro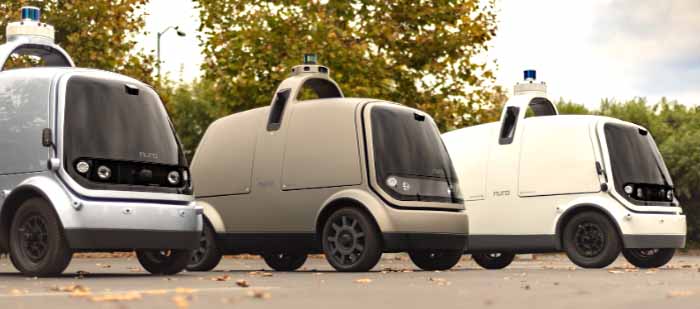 Nuro AI is a group of artificial intelligence experts enthusiastic about advanced robotics and has won many international contests and developed successful products. Nuro, their flagship product, is an autonomous vehicle utilized by delivery businesses. The California Department of Motor Cars granted the automaker permission to deploy these vehicles in two nations last week. This is the first time a business has been granted such permission. Additionally, it secured a $500 million Series C financing round last month as it prepares to deploy its car on city streets in the new year.
Sastra Robotics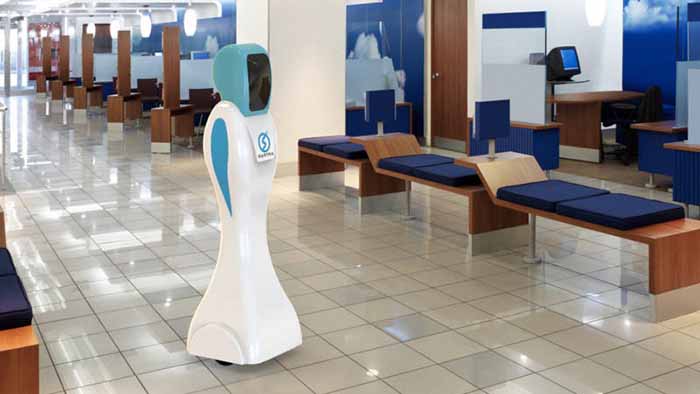 Sastra Robotics India Pvt Ltd is a market leader in cost-effective, sophisticated robotics and automation services. Sastra has made tremendous strides in the three years since its inception by working with three other pioneering firms in the same market: Cyberbotics of Switzerland, Dongbu Robot of Korea, and Corobot of the United States. It was determined feasible via the combined efforts of brilliant engineers whose enthusiasm for robotics is reflected in their aggressive goal of developing and marketing high-end Technology for a wider variety of applications. Their expertise and proficiency prepared the path for an explosive entrance into the robotics sector. According to TiE Silicon Valley's 2017 assessment of technology startups, Sastra Robotics is one of the world's top 50 robotics firms. Its headquarters are in the Indian city of Cochin. Sastra Robotics is a company dedicated to developing robotic manipulators capable of mimicking human movements. Sastra's automated HMI (human-machine interface) testing systems include sophisticated touchscreens with voice commands and hand motion responses for HMI testing. Additionally, Sastra invented the world's quickest touchscreen testing robotic arm, the 'SR-SCARA-Pro.'
Milagrow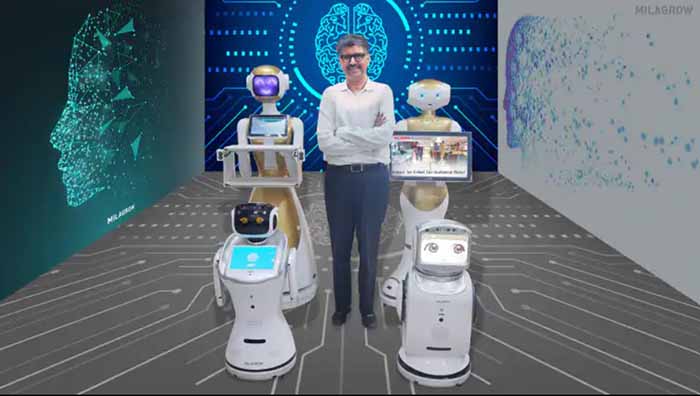 Milagrow was founded in 2007 to act as a catalyst for growth-oriented micro, small, and medium companies by filling their 'Management Capital' requirement gaps (MSMEs). Milagrow expanded into 'products' in the fourth quarter of 2011 and established its HumanTech division intending to empower individuals and families worldwide with technologically humane products by incorporating the latest advancements in the fields of Robotics, Mobility, and Home Automation.
Fanuc India
FANUC INDIA Private Limited was founded in 1992 with its headquarters in Bangalore as a subsidiary of the FANUC CORPORATION. Fanuc is the market leader in Factory Automation Technology on a worldwide scale. Fanuc manufactures a wide variety of products, ranging from single machines to whole manufacturing lines. FANUC India provides highly dependable and intuitive state-of-the-art CNC packages equipped with digital servo technology. It is the country's biggest producer of industrial robots, with approximately 4700 installations annually. Robots manufactured by FANUC are renowned for their dependability and performance.
GreyOrange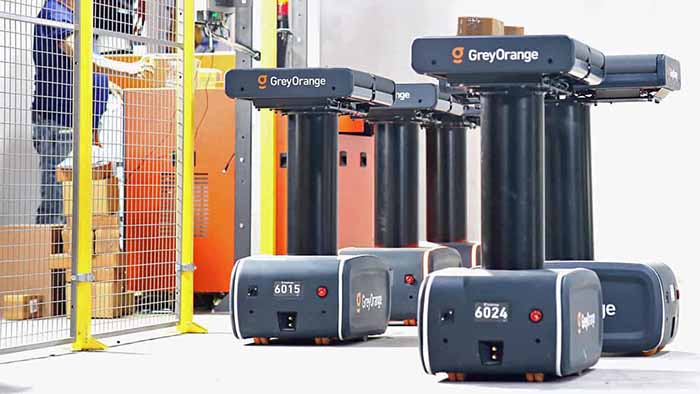 GreyOrange is a global business that develops and produces sophisticated robotics systems for warehouse operations. GreyOrange began as a two-person venture—Samay Kohli and Akash Gupta—and has grown to become one of India's leading robotics businesses, with operations in India, Hong Kong, the United Arab Emirates, Germany, and Japan. Among its leading clients include leading e-commerce businesses like Flipkart, PepperFry, Jabong, Myntra, and logistics organizations such as Kerry Logistics, Aramex, DTDC, and Delhivery. Among the many items created by the company are the GreyOrange Butler, the Butler PickPal, the Flexo, the Linear Sorter, the Cross-belt Sorter, and the Pick-put-to-light.
Gridbots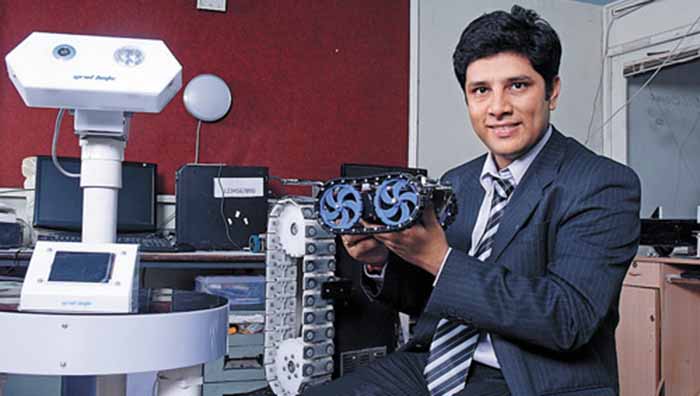 Gridbots is a robotics company founded in August 2007 by Mr. Pulkit Gaur, a young and enthusiastic inventor. Gridbots primarily works in the Artificial Intelligence and Machine Vision areas of robotics. Gridbots is now a 30-member team headquartered in Ahmedabad. It has a long list of prestigious clients, including the Ministry of Home Affairs in New Delhi, the National Institute of Design in Ahmedabad, the Indian Navy, the Bhabha Atomic Research Center, ONGC, TATA Power, ISRO, PRL, and the Gujarat Police. It contributes to undersea robotics, power plants, nuclear robotics, space robotics, and defense. Gridbots also provides solutions in painting, welding, sorting, injection molding, packaging, inspection, and barcoding. Gridbots is now a team of around 30 individuals, with its headquarters in Ahmedabad. Gridbots has sales and support offices in India's Jaipur, Meerut, and Faridabad.
KUKA Robotics (India) Private Limited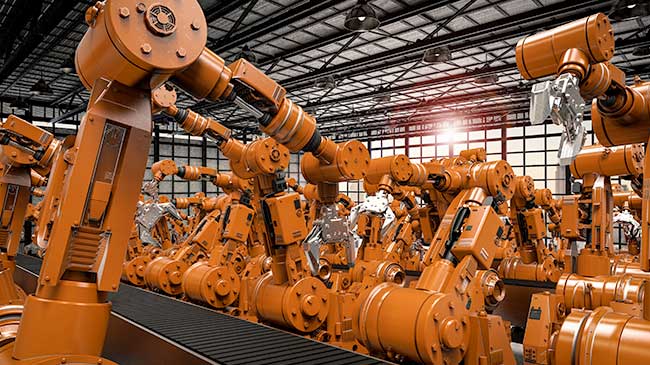 Kuka is a market leader in industrial robotics, specializing in creating robots, controllers, and software. The KUKA Robot Group wholly owns it. Kuka manufactures industrial robots in various configurations and payload capabilities; the company also manufactures peripheral robot equipment, manufacturing machines, and mobility units.
PARI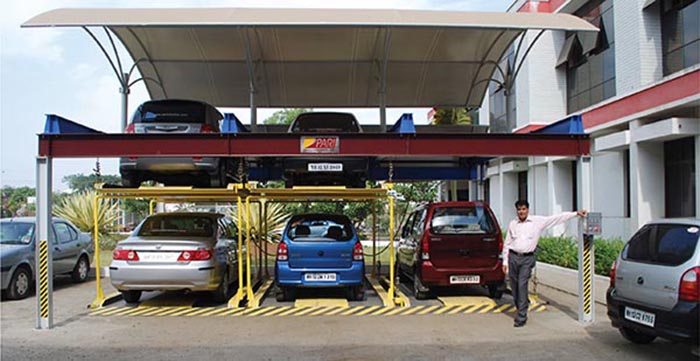 Precision Automation & Robotics India Limited (PARI) is one of the world's biggest automation businesses, with more than 970 people and eight globally. It began operations in 1991 and is headquartered in Satara, Maharashtra. PARI has installed approximately 1,500 automated systems globally since its inception. For more than 25 years, it has been the uncontested leader in worldwide turnkey installations, operating on four continents and in more than 25 nations. PARI's product line is trendy due to its low operational expenses and rapid return on investment.