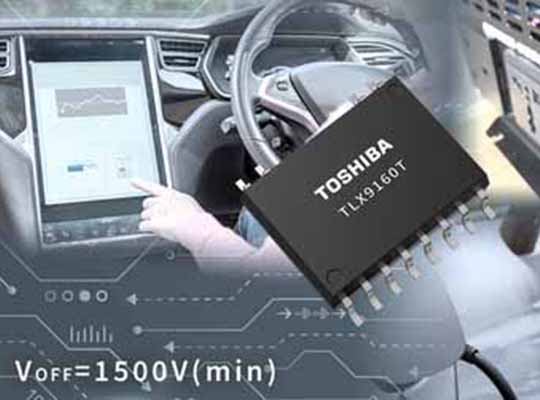 Kawasaki, Japan : Toshiba Electronic Devices and Storage Corporation has launched the " TLX9160T " which is a normally open (NO) 1-Form-A photorelay suitable for high voltage automotive batteries. Encased in a SO16L-T package, this new device is Toshiba's first device to feature a high output resistance voltage of 1500V (Min). Its bulk dispatch is starting from today.
Incorporation of a high voltage MOSFET (MOSEFT) into the new device achieves an output resistance voltage of 1500V (Min). One SO16L-T package made of resins in IEC 60664-1 International Standard Materials Group I [1] , with more than 600 CTI[2] and four firer pins (pins 11 to 14 have been omitted from current SO16L packages) When engaged, the instrument achieves creepage of 5 mm or more [3] upon detection. This ensures support for 1000V supply voltage under IEC 60664-1, suitable for photorelays for high voltage automotive applications with battery voltages up to 1000V.
Note:
[1] CTI [2] Groups molded goods by value to IEC 60664-1: CTI 600
[2] Comparative Tracking Index: IEC 60112 defines CTI as the first maximum possible voltage drop of ammonium chloride solution on the surface of the insulating material under the current test conditions.
[3] @Working Wootage = 1000V, Substance Group I, Pollution Level 2 (Pollution level of the operating environment where electrical equipment is used; pollutants are completely non-conducting, but likely to conduct by condensation Huh.)
Applications
automotive equipment
Battery Management System: Battery voltage monitoring, mechanical relay sticking detection, ground fault detection, etc.
Features
High Output Resistance Voltage : V OFF =1500V (Min)
Normally Open (1-Form-A) Apparatus
Avalanche Current Rating : IAV=0.6mA
High Isolation Voltage : 5000 Vrms (Min)
AEC-Q101 Qualified
Key Specifications
(Unless otherwise specified, T a =25°C)
part number
TLX9160T
Contact
1-Form-A
net max rating
Forward Current I F (mA)
30
On-state Current I ON (mA)
50
Operating temperature T opr (°C)
-40 to 125
Avalanche Current IAV (mA)
0.6
electrical characteristics
off-state current
I OFF max (nA)
@V OFF =1000V
100
output resistance voltage

V OFF min (V)
@I OFF =10μA
1500
Recommended Operating Conditions
Supply voltage V DD max (V)
1000
coupled electrical characteristics
Trigger LED Current
I FT max (mA)
@I ON =50mA
3
return LED current
I FC min (mA)
@T a =-40 to 125°C
0.05
on-state resistance
R ON max (Ω)
@I ON =50mA,

I F =10mA, t<1s
250
Switching Characteristics
Turn-on time t ON max (ms)
1
Turn-off time t OFF max (ms)
1
isolation characteristics
Isolation Voltage BV S min (Vrms)
5000
Clearance Distance Min (mm)
8
Creepage Distance Min (mm)
8
package
Name
SO16L-T
size type. (mm)
10.3×10×2.45
Sample Checking and Availability
buy online
Follow the link below to know more on the new product.
TLX9160T
Follow the link below to learn more on Toshiba's isolators and solid state relays.
Isolators/Solid State Relays
Follow the link below to learn more on Toshiba's automotive components.
Automotive Devices
To know the availability of new products with online distributors, visit:
TLX9160T
Customer Inquiry:
Optoelectronic Device Sales and Marketing Department
Phone : +81-44-548-2218
Contact us
* Company names, product names, and service names may be trademarks of their respective companies.
*All information in this document including prices and specifications of products, content of services and contact information is as of the date of the announcement but may be subject to change without prior notice.