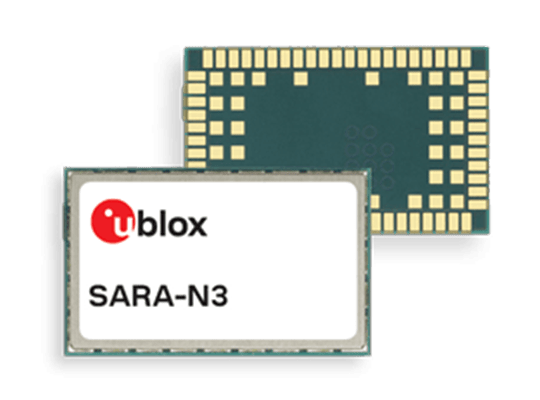 Thalwil, Switzerland – November 28, 2018 – u‑blox, a global provider of leading positioning and wireless communication technologies, has today announced the SARA‑N3, a multi‑band NB‑IoT module that supports a preliminary set of 3GPP Release 14 features (LTE Cat NB2). The SARA‑N3 is available in two variants: one dedicated to China and another that can operate across multiple bands on any NB‑IoT network globally.
The u‑blox firmware‑over‑the‑air (uFOTA) client/server solution with Lightweight M2M (LwM2M) allows SARA‑N3 to be remotely provisioned with additional features. LwM2M is a more lightweight solution as compared to OMA‑DM and thereby ideal for providing critical firmware updates to IoT devices. In this way, SARA‑N3 can ultimately become 5G compliant. SARA‑N3 also supports the creation of dynamic LwM2M objects, giving customers high levels of feature customization through the ability of scripting their own configurable objects.
"With its feature‑rich capabilities, the SARA‑N3 enables the development of one device across multiple regions for a wide variety of IoT/IIoT applications such as metering, smart city smart city systems, smart homes and industrial trackers," says Samuele Falcomer, Senior Product Manager, Product Center Cellular at u‑blox. "For customers currently using other methods to send IoT/IIoT data, such as legacy cellular technology, it is simple to upgrade to SARA‑N3 through u‑blox nested design and the new features introduced. The product is future‑proof, as it can receive further firmware upgrades over the air."
The SARA‑N3 provides a comprehensive set of features and protocols that NB‑IoT‑based applications will benefit from, including TCP, HTTPS, CoAP, DTLS and MQTT. With its ultra‑low power consumption profile and the ability to configure voltage domains, the module is optimized to operate on a single cell primary battery for 10+ years, eliminating the need for frequent maintenance visits. Other features include a 'last gasp' function that lets the module send one last message should the power fail unexpectedly and protection against software attacks by detecting potential jamming signals.
u‑blox manufactures according to ISO/TS16949 professional grade specifications. This approach incorporates 100% automated x‑ray and optical inspections, 100% outgoing test and product traceability. Together with failure analysis and product qualification criteria ensures that highly reliable products designed for long‑term operation are created.