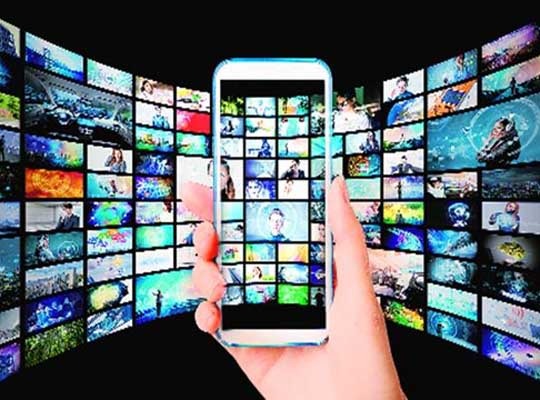 May 12,2020 – Disruptive technology applications in artificial intelligence (AI), and big data analytics are triggering adoption of video streaming among consumers. The global video streaming market will grow at an astounding 17% CAGR during the projection period i.e. 2019 – 2029. The market will further receive impetus in the near term with unprecedented viewership amid coronavirus outbreak. Expanding cloud infrastructure facilitates seamless streaming of high definition video content. Market players are prioritizing capture of streaming share by creating original content. The competition in the video streaming market is driven by quality and variety of video content.
Key Takeaways of Video Streaming Market study
On the back of strong cloud network and internet connectivity such as 5G, North America leads global sales with over 20% of the total market value share.
Middle East & Africa offer the most noteworthy revenue opportunities with a double digit 19% CAGR between 2019 and 2029. Surging penetration of digital services and smart devices in Middle East & African countries drives growth in this region.
Consumer end-use segment accounts for the highest demand for video streaming services. The segment holds more than 53% of the total market value share with a stupendous 18% CAGR through 2029. Live streaming of sports events, and mobile battle arena games act as a central factor for growth.
Non-Linear streaming type presents profitable opportunities with over 18% CAGR during the projection period. Investments from video streaming platforms in producing original content impel the demand for video streaming services.
Subscription based revenue model emerges as the leader in revenue generation with more than 51% of the total market revenue share. Features such as multiple screens, profiles, and parental control are giving traction to this revenue model.
Convenient availability of film and TV content over smartphones and tablets is driving the Over-the-top (OTT) delivery channel to exhibit a stellar 19% CAGR from 2019 to 2029.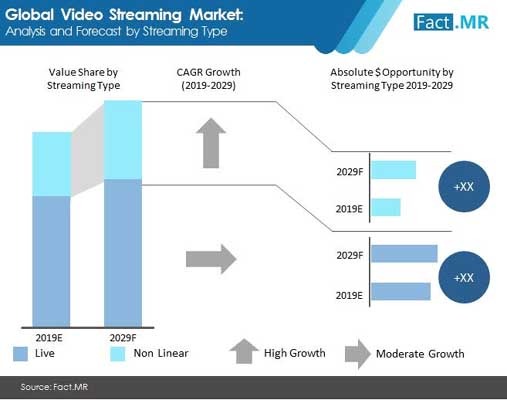 "Increasing disposable income will drive consumers to purchase subscriptions from multiple video streaming vendors. Market players must then prioritize engaging consumers based on content, picture quality, and streaming convenience. Revenues are expected to be garnered by organizations forging strategic partnerships with local celebrities that increase footfalls based on their personal goodwill."-Says Fact.MR Analyst
Convenience and Cross-Streaming to Remain Consumer Touch Point
Convenience of uninterrupted cross streaming between multiple devices is a major driver for video streaming platforms. Successful advertising generates considerable revenue for market players. A majority of consumers site viewer profiles as a major benefit of video streaming services. Separate viewer profiles in platforms such as HooQ, Netflix let users track their favourite shows, films and saves their viewing behaviour for satisfactory consumer sentiment analysis. On one hand, the consumer gets a unique viewing experience that saves the last scene and resumes from where he/she left over. On the other hand, video streaming platforms can successfully engage consumers by providing the most relevant suggestions for further viewing.
Some of the major competitors operating in the video streaming market are Netflix, Inc., Akamai Technologies, Amazon Web Services, Inc., Google LLC, Microsoft Corporation, Tencent, iQIYI, Inc., Novi Digital Entertainment Pvt Ltd (Hotstar), iflix, HOOQ, Rakuten Viki and others.
Find More Valuable Insights on Video Streaming Market
Fact.MR, in its new offering, brings to fore an unbiased analysis of the video streaming market, presenting historical demand data (2014-2018) and forecast statistics for the period, 2019-2029. The study divulges compelling insights on the video streaming market on the basis of streaming type (live, and non-linear), delivery channel (internet protocol TV, Over-the-top, and pay-tv), platform (gaming consoles, laptops & desktops, smartphones & tablets, and smart tv), service (consulting, managed services, and training & support), revenue model (advertising, rental, and subscription), end-use (enterprise (corporate communications, knowledge sharing & collaborations, marketing & client engagement, and training & development), and consumer (real-time entertainment, web-browsing & advertising, gaming, social networking, & e-learning), and across six major regions (North America, Latin America, Europe, East Asia, South Asia & Oceania, and Middle East & Africa).
To Get more Insights on Video Streaming Market, Visit: https://www.factmr.com/connectus/sample?flag=S&rep_id=4680