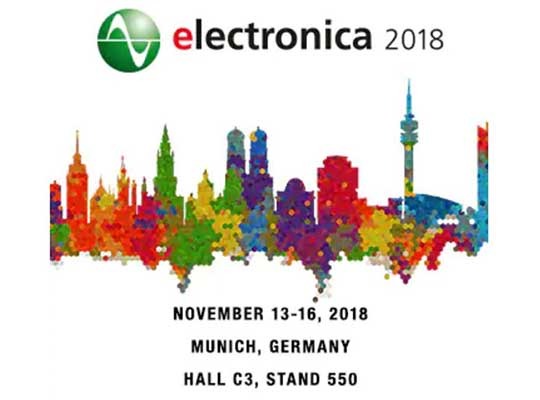 October 30, 2018 – Mouser Electronics, the industry's leading New Product Introduction (NPI) distributor with the widest selection of semiconductors and electronic components, will exhibit at electronica 2018, at the Messe München exhibition grounds, November 13-16, to inspire attendees with innovative products, technologies, and ideas. The Munich event is the world's leading trade fair and conference for electronics. Mouser is once again partnering with TTI, Inc. at Stand 550 in Hall C3 under the slogan "From Design Chain to Supply Chain … Your Complete Distribution Solution."
"Electronica is an exciting event, but it can also be exhausting. Mouser and TTI will offer a relaxed, friendly and informal area, providing a bit of fun while visitors explore what we offer," explained Graham Maggs, Vice President Marketing, Mouser EMEA. "We hope that more than a view visitors will walk away with a new dev kit, and that all will have new insight into what Mouser is all about, revitalized with good coffee and ready to experience the rest of the show."
Visitors to Mouser's booth at Stand 550 in Hall C3 can pick up a free cup of delicious coffee and test their luck at the "Spin to Win" game for a chance to win one of over 1,500 development kits up for grabs over the course of the four-day event. Visitors can also play "Pick Pack Ship", a skills game where players help Matt the Mouser Robot pull as many components as possible while navigating through the Mouser warehouse.
Making its debut at electronica 2018 is Mouser's augmented reality (AR) installation. Called "Future Cities," this highly engaging and immersive content experience combines a physical landscape model with an interactive 3D AR content overlay, taking visitors on a journey through the city of the future, and featuring the technology and suppliers that will make it possible.
Visitors to the Mouser stand can also meet with representatives of our EMEA customer service team and discuss their Mouser experience. This year, to enhance this opportunity, there is a Customer Service area, where our U.S.-based web team will be collecting visitor's feedback about mouser.com.
Leading up to the show, Mouser is running an online contest where designers can win a development kit from leading manufacturers Analog Devices/Linear Technology, Cypress Semiconductor, Infineon Technologies, Intel, Maxim Integrated, NXP Semiconductors, ON Semiconductor, Panasonic, STMicroelectronics, and Texas Instruments.
For more information on the development kit contest and Mouser's presence at electronica, visit www.mouser.com/electronica.