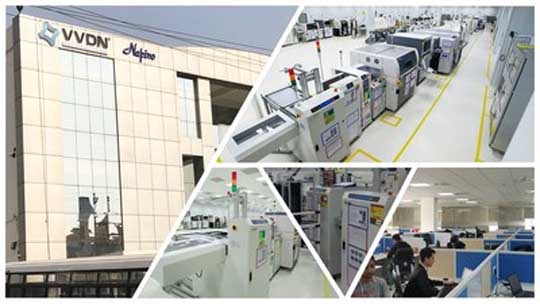 GURUGRAM, India, December 22, 2018 – VVDN Technologies has taken a step forward by opening its new advanced manufacturing facility in Manesar, Gurugram, With this new plant, VVDN is expected to double its manufacturing capacity and meet the future expected growth of its innovation all over the globe. The facility is spread across 100,000 square feet and integrates advanced engineering, testing and manufacturing equipment. The facility houses a fully integrated DVT Lab, Environmental and Functional Testing to maintain the highest real-time quality control.
VVDN has engineering and manufacturing expertise to execute various functions at plant such as Production Engineering, Testing/Validation and complete reliable labs including thermal chambers, Salt Spray chambers etc. with fully automatic SMT lines for mass manufacturing and prototype. Different types of machines like Battery analyzer, Ultrasonic Welding, Laser Etching & Komax machines are deployed. The new plant (ISO 9001:2008 Certified) is fully operational from now where more than 500 employees working and fully functional.
VVDN has indigenously designed, developed and manufactured several IoT products in networking, camera, tracker, automotive, industrial and defense space. IoT industry is growing rapidly and demand for specialized services and products, such as those provided by VVDN, is growing rapidly. Envisioning the future anticipated growth, VVDN invested into this new plant that is poised to offer the advantage of shorter time duration as well as meet the growing demand.
Gourab Basu, General Manager-Manufacturing, VVDN, said, "The investment in a new manufacturing plant is well aligned with the Indian Government's 'Make In India'effort. In addition, it will give us an excellent opportunity to strengthen our relationship with the local as well as international market." He further added, "This manufacturing facility is a testament of our strong commitment towards our long term growth plans and expansions."
Vivek Bansal, President Engineering, said, "We are proud to announce that our Engineering and Manufacturing expertise have high strategic fit with fast changing requirements of IoT industries, which is growing even faster beyond our imaginations. Our decision to build this new manufacturing facility is a part of our global strategy, aiming to rapidly meet the growing demand of our business offerings".
This Manufacturing plant is another milestone in VVDN's ever growing presence in Indiaand the U.S. VVDN's investment is a strong vote of confidence for their efforts in developing the company into a leading industries hub.
For details visit http://www.vvdntech.com