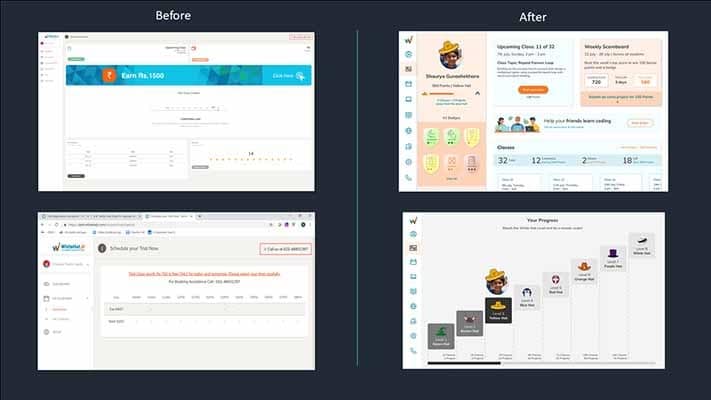 ZEUX was tasked with redesigning all aspects of the WhiteHat Jr's customer acquisition, live class and retention journeys
Systematic enhancement of core UX design pillars of navigation, presentation, content & interaction was done to create a hyper simple, child-friendly interface
Advanced gamification techniques were used to increase student motivation leading to repeat coding class purchases, consistent participation and long-term engagement
Post UX redesign, WhiteHat Jr. entered a phenomenal phase of growth. 6x increase in overall classes, 8x revenue growth, 23% increase in lifetime value of students, ultimately leading to the acquisition by Byjus' for $300 mn.
Mumbai; 17th August 2020: ZEUX Innovation, India's pre-eminent outcome driven UX design firm, successfully partnered with WhiteHat Jr. to redesign the latter's online learning interface. The objectives driving ZEUX were to improve completion rates of coding courses by young kids joining the platform. ZEUX's gamification-led UX design strategy, delivered an eight-fold increase in WhiteHat Jr's trial class completion and six-fold increase in overall classes – thereby cracking the student engagement & retention code through UX. Recently, WhiteHat Jr. announced its acquisition by Byjus for $300 mn.
Commenting on ZEUX's contribution to WhiteHat Jr.'s success – Karan Bajaj, CEO & Founder, WhiteHat Jr, said, "ZEUX Innovation's thought leadership and their output exceeded our expectations. Their advanced UX design techniques such as gamification worked really well for us and have helped us to achieve tremendous ROI. Overall, ZEUX is the holistic partner to have for companies looking at UX Design as a key differentiator in a red ocean."
ZEUX Top 3: Key ingredients for WhiteHat Jr's UX Transformation
| | |
| --- | --- |
| Simplification | UX best practices were used to systematically enhance the navigation, content, presentation, and interaction pillars of WhiteHat Jr's digital experience. As a first step, ZEUX simplified the trial class registration form, tech setup and class scheduling process that laid down a solid foundation for the UX transformation effort. |
| Gamification | WhiteHat Jr. caters to one of the most challenging target audiences – kids aged 6 till 14. To ensure high levels of engagement and class completion was a big challenge. ZEUX integrated gamification strategies with WhiteHat Jr's state-of-the-art courseware to deliver a potent blend of highly engaging online learning.The badges, hat levels & leaderboards all came together to form a holistic engagement framework that led to an increase in student & parent engagement ultimately leading to an increase in lifetime value. |
| Persuasion | ZEUX employed specific persuasion design techniques to drive deep and accelerated learning. For instance, specific badges were introduced into the classroom interface that teachers could use to reinforce qualities such as curiosity, creativity, and perseverance. Student progress was designed to be a combination of not just the number of class taken but also the quantity and quality projects completed. |
Commenting on the project, Saurabh Gupta, Co-founder, ZEUX Innovation, said, "As an experienced outcome driven UX agency, we are always offering solutions to empower clients and achieve their business goals. To work with WhiteHat Jr's team was a highly rewarding experience simply because they gave us a clean slate to build upon and backed us all the way. It was a partnership of two companies who are equally passionate about their businesses and are willing to listen to each other. What followed was pure magic – evident by the numbers and client delight."
Adding to the view, Hemal Gathani, Co-founder, ZEUX Innovation, said, "It is one of our showcase projects, which not only made learning fun and consistent among young kids; but more importantly, one which led to boosting investor confidence into the vision of WhiteHat Jr."
WhiteHat Jr.- the online platform, started in 2018 and has seen over 400,000 student projects with 100% month-on-month student and revenue growth, before its recently announced acquisition by Byjus.
Link: https://www.linkedin.com/posts/zeux-innovation_watch-how-zeuxs-approach-on-outcome-driven-activity-6692033283762487296-4OSE