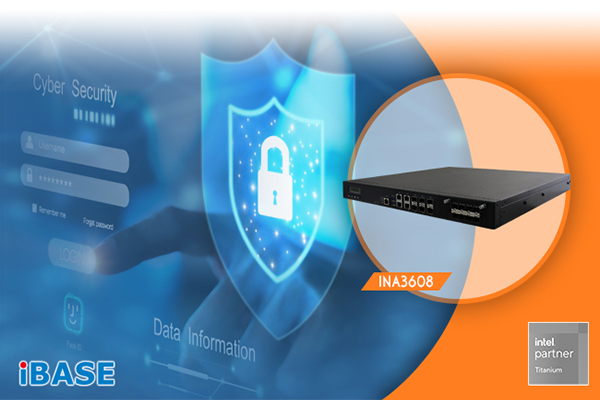 IBASE Technology announces the launch of the INA3608 1U network security server powered by the high-performance 13th Gen Intel Core processors (formerly Raptor Lake-S). The server is an indispensable component of modern network infrastructure, serving a wide range of applications to protect against threats, optimize performance, and maintain compliance with security and privacy regulations.
The INA3608 appliance offers versatility, making it a vital element in ensuring network reliability and security in an ever-evolving digital landscape. It provides a multitude of network connectivity options, including 4x 2.5GbE RJ45 ports with 1 pair bypass, 2x GbE SFP ports, and an optional NIC slot, enabling efficient data traffic management. With expansion capabilities, including 1x PCI-E Gen5 x8 slot for SSL cards and 1x PCI-E Gen5 x8 slot for IBN modules, as well as storage options like 1x 2.5″ HDD/SSD, 1x SATA DOM, and 1x 2280 M.2 slot, the server can be adapted to various network configurations.
The inclusion of 2x DDR5 UDIMM memory running at 4800MHz ensures swift and reliable data processing. For uninterrupted operation and system reliability, the server come equipped with 600W 1+1 redundant or 500W single power supply. Another model, the INA3606, is available with 12th Gen Intel Core processors. The INA3608 and INA3606 exemplify IBASE's commitment to providing advanced solutions for network security and data processing.
INA3608 FEATURES:
13th Gen Intel Core Processors with PCH R680E
2x DDR5 UDIMM 4800MHz (ECC)
4x 2.5GbE RJ45 with 1 pair bypass on board
2x Gbe SFP ports on board
Optional NIC slot
1x SATA/NVMe M.2
1x PCI-E x8 expansion slot
600W 1+1 redundant power supply